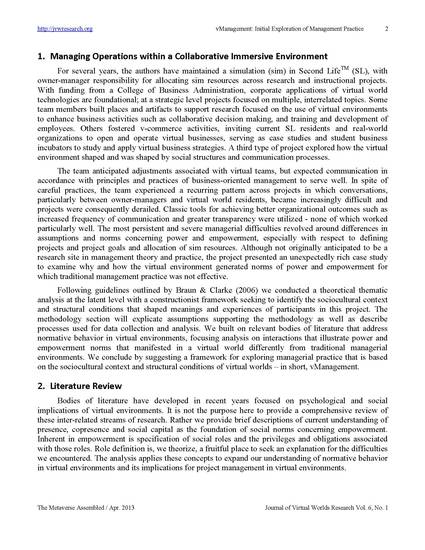 Article
vManagement: Initial Exploration of Management Practices in a Virtual World
Journal of Virtual Worlds Research (2013)
Abstract
For several years, the authors have maintained a simulation (sim) in Second LifeTM, with management responsibility for allocating sim resources across research and instructional projects, some of which involved working with residents. Although not originally anticipated to be a research site in management theory and practice, the project presented an unexpected pattern of difficulty and an unexpectedly rich case study to examine why and how the virtual environment generated norms of power and empowerment for which traditional management practice was not effective. We conducted a theoretical thematic analysis on a body of conversation transcripts, meeting agendas and minutes, email messages and other administrative documents, applying concepts from the literature on presence, copresence, embodiment and social capital, seeking to identify the sociocultural context and structural conditions that shaped meanings and experiences of participants in this project. This exploratory analysis suggests a need for development of management theory and practice based on norms of empowerment shaped by designer-user role hybridization - in short, vManagement.
DOI
10.4101/jvwr.v6i1.6322
Citation Information
M. Susan Wurtz, Dale Cyphert and Leslie K. Duclos. "vManagement: Initial Exploration of Management Practices in a Virtual World"
Journal of Virtual Worlds Research
Vol. 6 Iss. 1 (2013)
Available at: http://works.bepress.com/dale_cyphert/11/