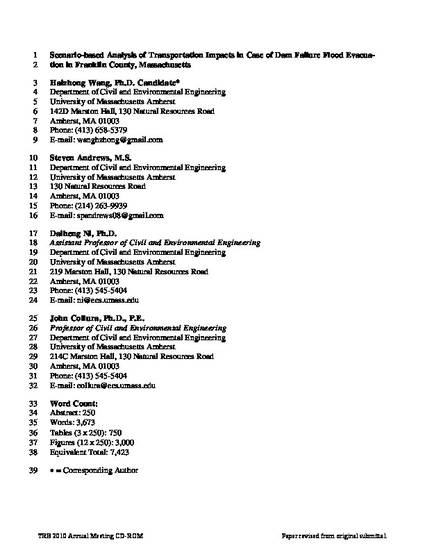 Presentation
Scenario-based Analysis of Transportation Impacts in Case of Dam Failure Flood Evacuation in Franklin County, Massachusetts (Paper # 10-1352)
The 89th Transportation Research Board (TRB) Annual Meeting (2010)
Abstract
Emergency planning is an important practice that allows government officials and planners to prepare for disasters and to make prompt response s that can save lives and property . One of the foremost concern s during an emergency is to save as many lives as possible. Thus, whethe r people can leave the disaster areas safely and efficiently is a prime consideration in emergency planning and management. Usually, transportation planners use a four - step model to predict sy s- tem - level performance regarding how people move from on e place to another , and to determine the network ' s weak points and critical areas . In this project, a computer - based software package , TransCAD, is used to evaluate traffic impacts of the evacuation of riverside communities in Franklin County, Massachusetts in the event of flood caused by a hypothetical failure of the Ha r- riman Dam . Th is scenario was partially designed by representatives of Franklin County. The probable maximum flood (PMF) case is considered ; for safety concerns, an evacuation - planning zone (EPZ) is defined as 500 f ee t beyond inundation area. O ne important concern is that peo ple living upstream , near the dam , have much less time to evacu ate than those who live downstream . T he basic consideration behind the model is to evacuate people in a progressive manner in order to take into account the dynamic nature of flood. Using the four - step model together with altered inputs , an analysis is conducted to identify when and where the traffic problems will be the most severe. Following this , general conclusions and recommendations are made.
Citation Information
Haizhong Wang, Steven Andrews, John Collura and Daiheng Ni. "Scenario-based Analysis of Transportation Impacts in Case of Dam Failure Flood Evacuation in Franklin County, Massachusetts (Paper # 10-1352)"
The 89th Transportation Research Board (TRB) Annual Meeting
(2010)
Available at: http://works.bepress.com/daiheng_ni/15/