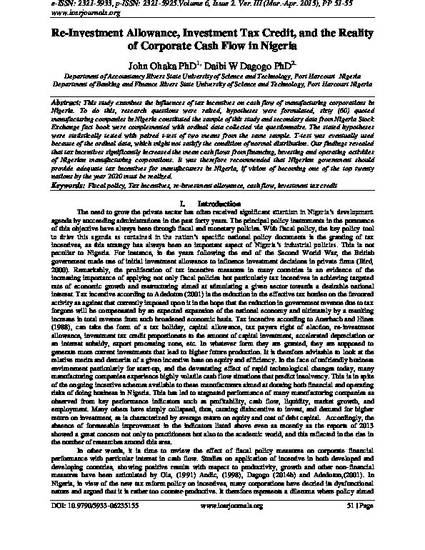 Article
Re-Investment Allowance, Investment Tax Credit, and the Reality of Corporate Cash Flow in Nigeria
IOSR Journal of Economics and Finance (2015)
Abstract
This study examines the influences of tax incentives on cash flow of manufacturing corporations in Nigeria. To do this, research questions were raised, hypotheses were formulated, sixty (60) quoted manufacturing companies in Nigeria constituted the sample of this study and secondary data from Nigeria Stock Exchange fact book were complemented with ordinal data collected via questionnaire. The stated hypotheses were statistically tested with paired t-test of two means from the same sample. T-test was eventually used because of the ordinal data, which might not satisfy the condition of normal distribution. Our findings revealed that tax incentives significantly increased the mean cash flows from financing, investing and operating activities of Nigerian manufacturing corporations. It was therefore recommended that Nigerian government should provide adequate tax incentives for manufacturers in Nigeria, if vision of becoming one of the top twenty nations by the year 2020 must be realized.
Keywords
Fiscal policy,
Tax Incentives,
re - investment allowance,
cash flow,
investment tax credit
Publication Date
March, 2015
Citation Information
Daibi W Dagogo. "Re-Investment Allowance, Investment Tax Credit, and the Reality of Corporate Cash Flow in Nigeria"
IOSR Journal of Economics and Finance
Vol. 6 Iss. 2 (3) (2015)
Available at: http://works.bepress.com/daibi_dagogo/1/