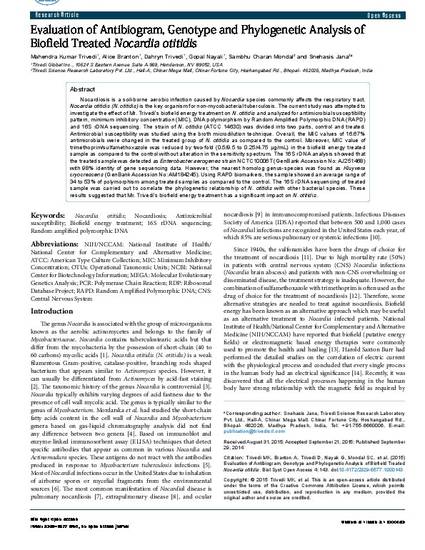 Article
Evaluation of Antibiogram, Genotype and Phylogenetic Analysis of Biofield Treated Nocardia otitidis
Biological Systems: Open Access (2015)
Abstract
Nocardiosis is a soil-borne aerobic infection caused by Nocardia species commonly affects the respiratory tract. Nocardia otitidis (N. otitidis) is the key organism for non-mycobacterial tuberculosis. The current study was attempted to investigate the effect of Mr. Trivedi's biofield energy treatment on N. otitidis and analyzed for antimicrobial susceptibility pattern, minimum inhibitory concentration (MIC), DNA polymorphism by Random Amplified Polymorphic DNA (RAPD) and 16S rDNA sequencing. The strain of N. otitidis (ATCC 14630) was divided into two parts, control and treated. Antimicrobial susceptibility was studied using the broth microdilution technique. Overall, the MIC values of 16.67% antimicrobials were changed in the treated group of N. otitidis as compared to the control. Moreover, MIC value of trimethoprim/sulfamethoxazole was reduced by two-fold (0.5/9.5 to 0.25/4.75 μg/mL) in the biofield energy treated sample as compared to the control without alteration in the sensitivity spectrum. The 16S rDNA analysis showed that the treated sample was detected as Enterobacter aerogenes strain NCTC10006T (GenBank Accession No: AJ251468) with 98% identity of gene sequencing data. However, the nearest homolog genus-species was found as Kluyvera cryocrescens (GenBank Accession No: AM184245). Using RAPD biomarkers, the sample showed an average range of 34 to 53% of polymorphism among treated samples as compared to the control. The 16S rDNA sequencing of treated sample was carried out to correlate the phylogenetic relationship of N. otitidis with other bacterial species. These results suggested that Mr. Trivedi's biofield energy treatment has a significant impact on N. otitidis.
Keywords
Nocardia otitidis,
Nocardiosis,
Antimicrobial susceptibility,
Biofield energy treatment,
16S rDNA sequencing,
Random amplified polymorphic DNA
Publication Date
September 29, 2015
DOI
10.4172/2329-6577.1000143
Citation Information
Trivedi MK, Branton A, Trivedi D, Nayak G, Mondal SC, et al. (2015) Evaluation of Antibiogram, Genotype and Phylogenetic Analysis of Biofield Treated Nocardia otitidis. Biol Syst Open Access 4: 143. doi:10.4172/2329-6577.1000143
Creative Commons license
This work is licensed under a Creative Commons CC_BY International License.