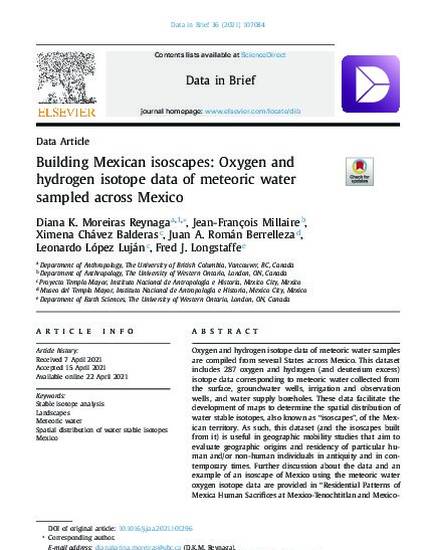 Article
Building Mexican Isoscapes: Oxygen and hydrogen isotope data of meteoric water sampled across Mexico
Data in Brief (2021)
Abstract
Oxygen and hydrogen isotope data of meteoric water samples are compiled from several States across Mexico. This dataset includes 287 oxygen and hydrogen (and deuterium excess) isotope data corresponding to meteoric water collected from the surface, groundwater wells, irrigation and observation wells, and water supply boreholes. These data facilitate the development of maps to determine the spatial distribution of water stable isotopes, also known as "isoscapes", of the Mexican territory. As such, this dataset (and the isoscapes built from it) is useful in geographic mobility studies that aim to evaluate geographic origins and residency of particular human and/or non-human individuals in antiquity and in contemporary times. Further discussion about the data and an example of an isoscape of Mexico using the meteoric water oxygen isotope data are provided in "Residential Patterns of Mexica Human Sacrifices at Mexico-Tenochtitlan and Mexico-Tlatelolco: Evidence from Phosphate Oxygen Isotopes"(Moreiras Reynaga et al., 2021). Overall, the dataset is useful in developing interpolated maps of water stable isotopes for rel- evant archeological, bioarchaeological, forensic, hydrogeolog- ical, and ecological research.   
Keywords
Stable isotope analysis,
Landscapes,
Meteoric water,
Spatial distribution of water stable isotopes,
Mexico
Publication Date
Summer June, 2021
DOI
https://doi.org/10.1016/j.dib.2021.107084
Citation Information
Diana K Moreiras Reynaga, Jean-François Millaire, Ximena Chávez Balderas, Juan A Román Berrelleza, et al.. "Building Mexican Isoscapes: Oxygen and hydrogen isotope data of meteoric water sampled across Mexico"
Data in Brief
Vol. 36 (2021) ISSN: 2352-3409
Available at: http://works.bepress.com/d_moreiras/10/
Creative Commons license
This work is licensed under a Creative Commons CC_BY-NC-ND International License.