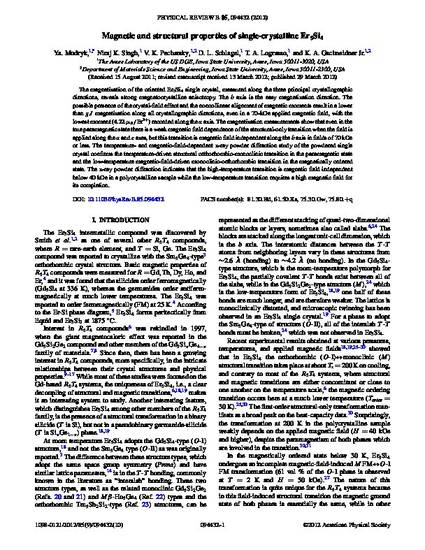 Article
Magnetic and structural properties of single-crystalline Er5Si4
Physical Review B
Publication Date
3-29-2012
DOI
10.1103/PhysRevB.85.094432
Abstract
The magnetization of the oriented Er5Si4 single crystal, measured along the three principal crystallographic directions, reveals strong magnetocrystalline anisotropy. The b axis is the easy magnetization direction. The possible presence of the crystal-field effect and the noncollinear alignment of magnetic moments result in a lower than gJ magnetization along all crystallographic directions, even in a 70-kOe applied magnetic field, with the lowest moment (4.22 μB/Er3+) recorded along the a axis. The magnetization measurements show that even in the true paramagnetic state there is a weak magnetic field dependence of the structural-only transition when the field is applied along the a and c axes, but this transition is magnetic field independent along theb axis in fields of 70 kOe or less. The temperature- and magnetic-field-dependent x-ray powder diffraction study of the powdered single crystal confirms the temperature-driven structural orthorhombic-monoclinic transition in the paramagnetic state and the low-temperature magnetic-field-driven monoclinic-orthorhombic transition in the magnetically ordered state. The x-ray powder diffraction indicates that the high-temperature transition is magnetic field independent below 40 kOe in a polycrystalline sample while the low-temperature transition requires a high magnetic field for its completion.
Copyright Owner
American Physical Society
File Format
application/pdf
Citation Information
Yaroslav Mudryk, Niraj K. Singh, Vitalij K. Pecharsky, Deborah L. Schlagel, et al.. "Magnetic and structural properties of single-crystalline Er5Si4"
Physical Review B
Vol. 85 Iss. 9 (2012) p. 094432
Available at: http://works.bepress.com/d_l_schlagel/1/