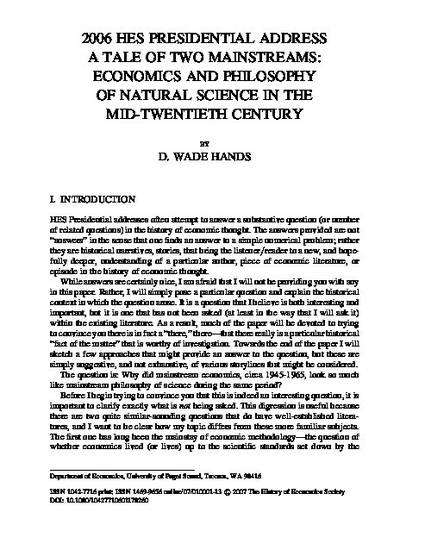 Article
2006 HES Presidential address a Tale of two Mainstreams: Economics and Philosophy of Natural Science in the Mid-Twentieth Century
Journal Of The History Of Economic Thought
Publication Date
3-1-2007
Abstract
The article discusses topics related to economics and philosophy of science in the mid-twentieth century. The author indicated that the similarities between received view philosophy of science and mainstream economics are really quite extraordinary and are badly in need of an explanation. In addition, the author suggested ways which explanations might proceed.
Citation Information
Hands, Douglas Wade. 2007. "2006 HES Presidential Address a Tale of Two Mainstreams: Economics and Philosophy of Natural Science in the Mid-Twentieth Century." Journal Of The History Of Economic Thought 29(1): 1-13.