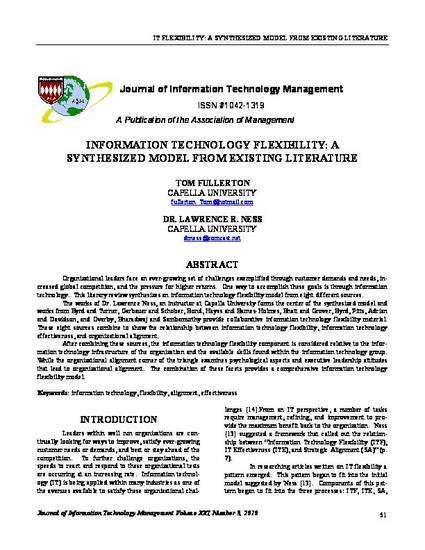 Article
INFORMATION TECHNOLOGY FLEXIBILITY: A SYNTHESIZED MODEL FROM EXISTING LITERATURE
Journal of Information Technology Management (2010)
Abstract
Organizational leaders face an ever-growing set of challenges exemplified through customer demands and needs, in-creased global competition, and the pressure for higher returns. One way to accomplish these goals is through information technology. This literary review synthesizes an information technology flexibility model from eight different sources.The works of Dr. Lawrence Ness, an instructor at Capella University forms the center of the synthesized model and works from Byrd and Turner, Gerbauer and Schober, Bond, Hayes and Barnes-Holmes, Bhatt and Grover, Byrd, Pitts, Adrianand Davidson, and Overby, Bharadwaj and Sambamurthy provide collaborative information technology flexibility material.These eight sources combine to show the relationship between information technology flexibility, information technology effectiveness, and organizational alignment.After combining these sources, the information technology flexibility component is considered relative to the information technology infrastructure of the organization and the available skills found within the information technology group.While the organizational alignment corner of the triangle examines psychological aspects and executive leadership attitudes that lead to organizational alignment. The combination of these facets provides a comprehensive information technology flexibility model.
Keywords
Information Technology Management,
IT Flexibility
Citation Information
Lawrence Ness and Tom Fullerton. "INFORMATION TECHNOLOGY FLEXIBILITY: A SYNTHESIZED MODEL FROM EXISTING LITERATURE"
Journal of Information Technology Management
Vol. XXI Iss. 3 (2010)
Available at: http://works.bepress.com/d101mentor/3/