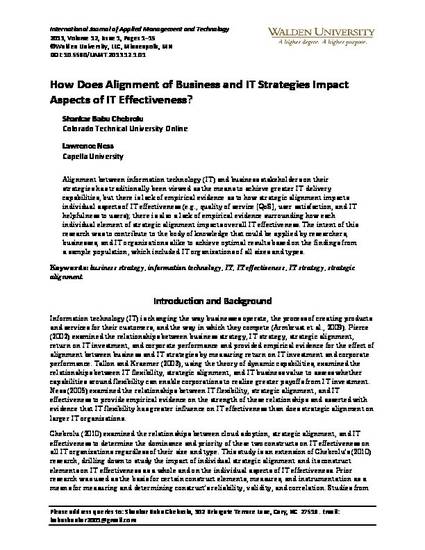 Article
How Does Alignment of Business and IT Strategies Impact Aspects of IT Effectiveness?
International Journal of Applied Management and Technology
Publication Date
1-1-2013
Abstract
Alignment between information technology (IT) and business stakeholders on their strategies has traditionally been viewed as the means to achieve greater IT delivery capabilities, but there is lack of empirical evidence as to how strategic alignment impacts individual aspects of IT effectiveness (e.g., quality of service [QoS], user satisfaction, and IT helpfulness to users); there is also a lack of empirical evidence surrounding how each individual element of strategic alignment impacts overall IT effectiveness. The intent of this research was to contribute to the body of knowledge that could be applied by researchers, businesses, and IT organizations alike to achieve optimal results based on the findings from a sample population, which included IT organizations of all sizes and types.
Citation Information
Shankar Babu Chebrolu and Lawrence Ness. "How Does Alignment of Business and IT Strategies Impact Aspects of IT Effectiveness?" (2013)
Available at: http://works.bepress.com/d101mentor/1/