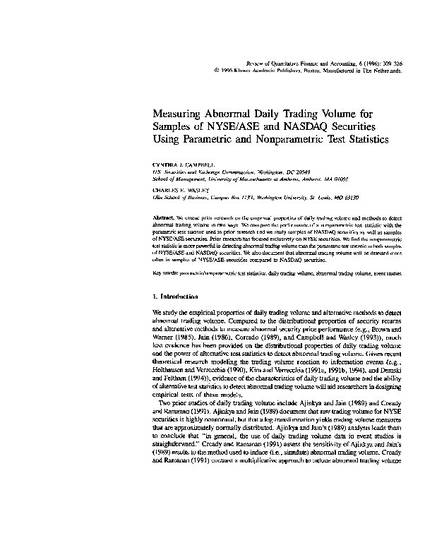 Article
Measuring Abnormal Daily Trading Volumes for Samples of NYSE/ASE and NASDAQ Securities Using Parametric and Nonparametric Test Statistics
Review of Quantitative Finance and Accounting (1996)
Abstract
We extend prior research on the empirical properties of daily trading volume and methods to detect abnormal trading volume in two ways. We compare the performance of a nonparametric test statistic with the parametric test statistic used in prior research and we study samples of NASDAQ securities as well as samples of NYSE/ASE securities. Prior research has focused exclusively on NYSE securities. We find the nonparametric test statistic is more powerful in detecting abnormal trading volume than the parametric test statistic in both samples of NYSE/ASE and NASDAQ securities. We also document that abnormal trading volume will be detected more often in samples of NYSE/ASE securities compared to NASDAQ securities.
Keywords
parametric/nonparametric test statistics,
daily trading volume,
abnormal trading volume,
event studies
Publication Date
May 1, 1996
Citation Information
Cynthia J. Campbell. "Measuring Abnormal Daily Trading Volumes for Samples of NYSE/ASE and NASDAQ Securities Using Parametric and Nonparametric Test Statistics"
Review of Quantitative Finance and Accounting
Vol. 6 Iss. 3 (1996)
Available at: http://works.bepress.com/cynthia_campbell/6/