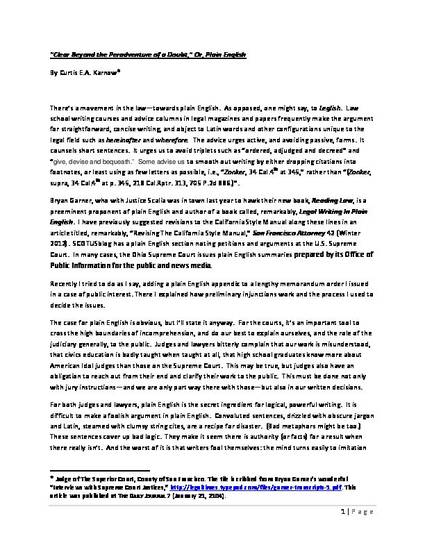 Article
"Clear Beyond the Peradventure of a Doubt," Or, Plain English
The Daily Journal (2014)
Abstract
The article urges judges and lawyers to write briefs and opinions in plain English. This outreach from the legal world to the public is important. As the public understands what courts do, the public will be increasingly supportive of the courts, more likely to comply with courts directives, and more likely to engage in meaningful debate concerning the justice system. In this sense, writing in plain English is a civic duty.
Keywords
plain English,
plain,
writing,
style,
civics,
public undertanding
Publication Date
January 21, 2014
Citation Information
Curtis E.A. Karnow. ""Clear Beyond the Peradventure of a Doubt," Or, Plain English"
The Daily Journal
(2014)
Available at: http://works.bepress.com/curtis_karnow/12/