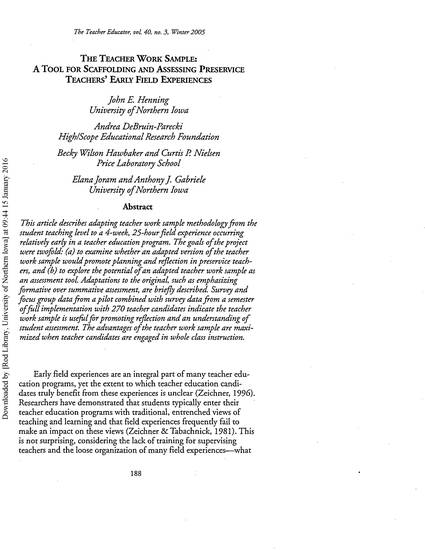 Article
The Teacher Work Sample: A Tool for Scaffolding and Assessing Preservice Teachers' Early Field Experiences
The Teacher Educator (2005)
Abstract
This article describes adapting teacher work sample methodology from the student teaching level to a 4‐week, 25‐hour field experience occurring relatively early in a teacher education program. The goals of the project were twofold: (a) to examine whether an adapted version of the teacher work sample would promote planning and reflection in preservice teachers, and (b) to explore the potential of an adapted teacher work sample as an assessment tool. Adaptations to the original, such as emphasizing formative over summative assessment, are briefly described. Survey and focus group data from a pilot combined with survey data from a semester of full implementation with 270 teacher candidates indicate the teacher work sample is useful for promoting reflection and an understanding of student assessment. The advantages of the teacher work sample are maximized when teacher candidates are engaged in whole class instruction. The teacher work sample: A tool for scaffolding and assessing preservice teachers' early field experiences.
Citation Information
John E Henning, Andrea DeBruin-Parecki, Becky Wilson Hawbaker, Curtis P Nielsen, et al.. "The Teacher Work Sample: A Tool for Scaffolding and Assessing Preservice Teachers' Early Field Experiences"
The Teacher Educator
Vol. 40 (2005)
Available at: http://works.bepress.com/curtis-nielsen/2/