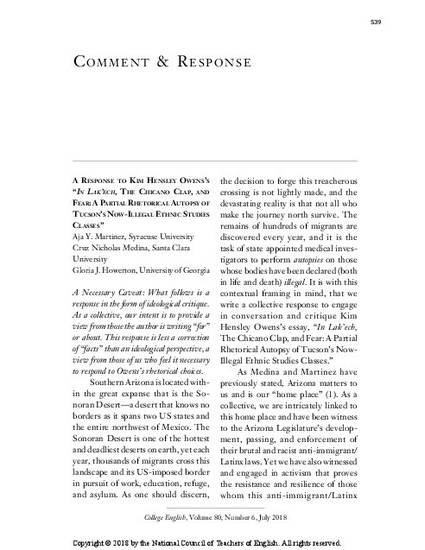 Article
A Response to Kim Hensley Owens's "In Lak'ech, The Chica no Clap, and Fear : A Partial Rhetorical Autopsy of Tucson's Now-Illegal Ethnic Studies Classes"
English
Document Type
Response or Comment
Publication Date
7-1-2018
Publisher
National Council of Teachers of English
Abstract
A Necessary Caveat: What follows is a response in the form of ideological critique. As a collective, our intent is to provide a view from those the author is writing "for" or about. This response is less a correction of "facts" than an ideological perspective, a view from those of us who feel it necessary to respond to Owens's rhetorical choices.
Citation Information
Martinez, A. Y., Medina, C., & Howerton, G. J. (2018). A Response to Kim Hensley Owens's "In Lak'ech, The Chica no Clap, and Fear : A Par tial Rhetorica l Autopsy of Tucson's Now-Illegal Ethnic Studies Classes." College English, 80(6), 539–545.