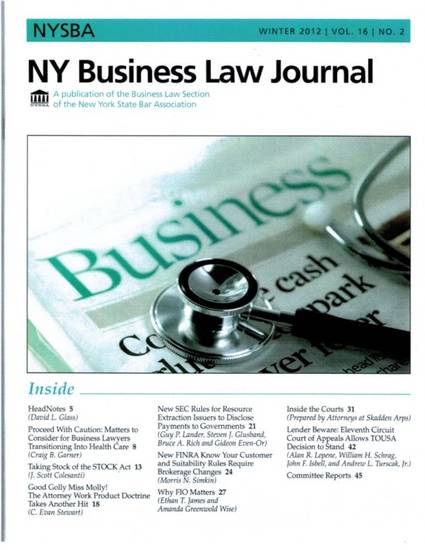 Article
Proceed With Caution: Matters to Consider for Business Lawyers Transitioning Into Health Care
NY Business Law Journal (2012)
Abstract
While the subject of health care law makes headlines daily across the nation, there is still a sizeable chasm between health care lawyers and their business counterparts. Sometimes complicated, health care law is by no means exclusive, and opportunities abound for an able practitioner. Notwithstanding, in today's climate of reform it is essential that those practicing American health care law honor and obey the hierarchy surrounding its discipline as it struggles to stay afloat amid a rising tide of constitutional, partisan and fiscal challenges. In most states, attorneys are mindful that when venturing into areas of law outside their usual practice, rule of professional conduct apply. A District Court in the District of Columbia recently repeated a familiar quote that health care law, and the Medicare statutes in particular, exist "among the most completely impenetrable texts within human experience." Complications notwithstanding, there is a pressing need to advance this body of authority, not to mention the nation's health care system, beyond its fledgling form (commonly referred to as the Affordable Care Act). What began as a mere 2,700 pages of codified reform may eventually be tens of thousands. This will require active participation from attorneys representing practically all areas of law, although when it comes to matters of health care law, it is always best to proceed with caution.
Publication Date
Winter November, 2012
Citation Information
Craig B. Garner. "Proceed With Caution: Matters to Consider for Business Lawyers Transitioning Into Health Care"
NY Business Law Journal
Vol. 16 Iss. 2 (2012)
Available at: http://works.bepress.com/craiggarner/14/