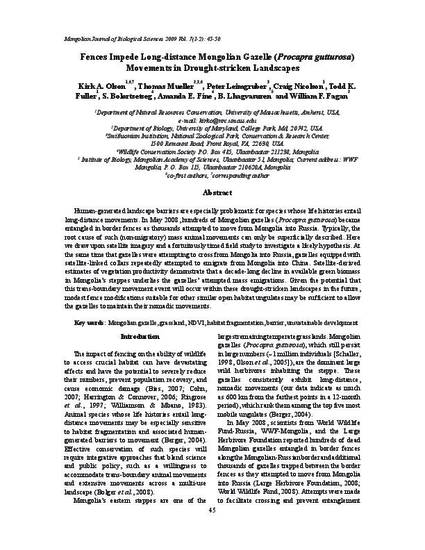 Article
Fences Impede Long-distance Mongolian Gazelle (Procapra gutturosa) Movements in Drought-stricken Landscapes
Mongolian Journal of Biological Sciences (2009)
Abstract
Human-generated landscape barriers are especially problematic for species whose life histories entail long-distance movements. In May 2008, hundreds of Mongolian gazelles (Procapra gutturosa) became entangled in border fences as thousands attempted to move from Mongolia into Russia. Typically, the root cause of such (non-migratory) mass animal movements can only be superfi cially described. Here we draw upon satellite imagery and a fortuitously timed fi eld study to investigate a likely hypothesis. At the same time that gazelles were attempting to cross from Mongolia into Russia, gazelles equipped with satellite-linked collars repeatedly attempted to emigrate from Mongolia into China. Satellite-derived estimates of vegetation productivity demonstrate that a decade-long decline in available green biomass in Mongolia's steppes underlies the gazelles' attempted mass emigrations. Given the potential that this trans-boundary movement event will occur within these drought-stricken landscapes in the future, modest fence modifi cations suitable for other similar open habitat ungulates may be suffi cient to allow the gazelles to maintain their nomadic movements.
Keywords
Mongolian gazelle,
grassland,
NDVI,
habitat fragmentation,
barrier,
unsustainable development
Citation Information
Kirk A. Olson, Thomas Mueller, Peter Leimgruber, Craig Nicolson, et al.. "Fences Impede Long-distance Mongolian Gazelle (Procapra gutturosa) Movements in Drought-stricken Landscapes"
Mongolian Journal of Biological Sciences
Vol. 7 Iss. 1-2 (2009)
Available at: http://works.bepress.com/craig_nicolson/3/