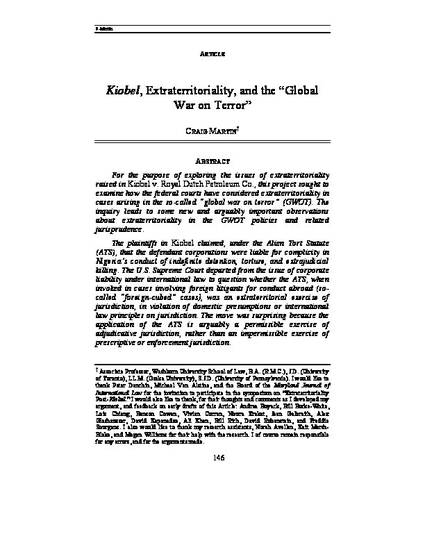 Article
Kiobel, Extraterritoriality, and the "Global War on Terrorism"
Maryland Journal of International Law (2013)
Abstract
For the purpose of exploring the issues of extraterritoriality raised in Kiobel v. Royal Dutch Petroleum Co., this project sought to examine how the federal courts have considered extraterritoriality in cases arising in the so-called "global war on terror" (GWOT). The inquiry leads to some new and arguably important observations about extraterritoriality in the GWOT policies and related jurisprudence. The plaintiffs in Kiobel claimed, under the Alien Tort Statute (ATS), that the defendant corporations were liable for complicity in Nigeria's conduct of indefinite detention, torture, and extrajudicial killing. The U.S. Supreme Court departed from the issue of corporate liability under international law to question whether the ATS, when invoked in cases involving foreign litigants for conduct abroad (so-called "foreign-cubed" cases), was an extraterritorial exercise of jurisdiction, in violation of domestic presumptions or international law principles on jurisdiction. The move was surprising because the application of the ATS is arguably a permissible exercise of adjudicative jurisdiction, rather than an impermissible exercise of prescriptive or enforcement jurisdiction.
Keywords
Kiobel,
alien tort statute,
international law,
jurisdiction,
global war on terror,
terrorism,
universal jurisdiction,
torture,
war crimes,
Guantanamo Bay,
detainees
Publication Date
Summer July, 2013
Citation Information
Craig Martin. "Kiobel, Extraterritoriality, and the "Global War on Terrorism""
Maryland Journal of International Law
Vol. 28 (2013)
Available at: http://works.bepress.com/craig_martin/6/