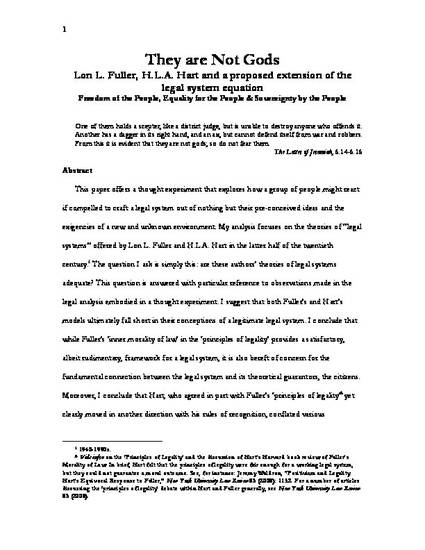 Unpublished Paper
They are Not Gods: Lon L. Fuller, H.L.A. Hart and a proposed extension of the legal system equation: Freedom of the People, Equality for the People & Sovereignty by the People
ExpressO (2011)
Abstract
This paper offers a thought experiment that explores how a group of people might react if compelled to craft a legal system out of nothing but their pre-conceived ideas and the exigencies of a new and unknown environment. My analysis focuses on the theories of "legal systems" offered by Lon L. Fuller and H.L.A. Hart in the latter half of the twentieth century. The question I ask is simply this: are these authors' theories of legal systems adequate? This question is answered with particular reference to observations made in the legal analysis embodied in a thought experiment. I suggest that both Fuller's and Hart's models ultimately fall short in their conceptions of a legitimate legal system. I conclude that while Fuller's 'inner morality of law' in the 'principles of legality' provides a satisfactory, albeit rudimentary, framework for a legal system, it is also bereft of concern for the fundamental connection between the legal system and its theoretical guarantors, the citizens. Moreover, I conclude that Hart, who agreed in part with Fuller's 'principles of legality' yet clearly moved in another direction with his rules of recognition, conflated various incarnations of his rules and, like Fuller, he left out important considerations concerning the all important nexus between people and their legal systems. In addition to Fuller's eight tenets defining a legal system, all of which are discussed below, I suggest that three additional elements are required: freedom of the people, equality for the people, and sovereignty by the people.
Keywords
H.L.A. Hart,
Lon L. Fuller,
Principles of Legality,
Thought Experiment
Publication Date
July 21, 2011
Citation Information
Craig G Bateman. "They are Not Gods: Lon L. Fuller, H.L.A. Hart and a proposed extension of the legal system equation: Freedom of the People, Equality for the People & Sovereignty by the People"
ExpressO
(2011)
Available at: http://works.bepress.com/craig_bateman/5/