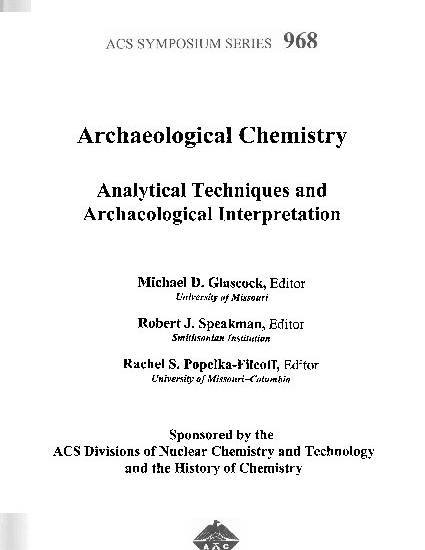 Contribution to Book
Instrumental Neutron Activation Analysis of Ochre Artifacts from Jiskairumoko, Peru
Archaeological Chemistry: Analytical Techniques and Archaeological Interpretation (2007)
Abstract
Ochre is very common in the Terminal Archaic-Early Formative archaeological site of Jiskairumoko, (Rio Ilave, Lake Titicaca Basin, southern Peru). Within the site, ochre was found on tools, palettes, and in burials and soil deposits within structures in several contexts, suggesting both symbolic and functional uses of ochre. Variations in the color and contexts imply possibilities for different uses of ochre.. Instrumental neutron activation analysis was used to analyze the ochre samples found in Jiskairumoko. Multivariate analysis of the elemental data by principal components analysis suggests trends in the data related to the compositional variation of ochres on the site. Further analysis of the ochre will lead to conclusions about the variation in composition of the ochres from Jiskairumoko and possible archaeological conclusions about ancient technologies and uses of ochre on the site.
Editor
Michael D. Glascock, Robert J. Speakman and Rachel S. Popelka-Filcoff.
Publisher
American Chemical Society
Series
ACS Symposium Series
Citation Information
Rachel S Popelka-Filcoff, Nathan M Craig, Michael D Glascock, David Robertson, et al.. "Instrumental Neutron Activation Analysis of Ochre Artifacts from Jiskairumoko, Peru" Washington D.C.
Archaeological Chemistry: Analytical Techniques and Archaeological Interpretation
Vol. 968 (2007)
Available at: http://works.bepress.com/craig/8/