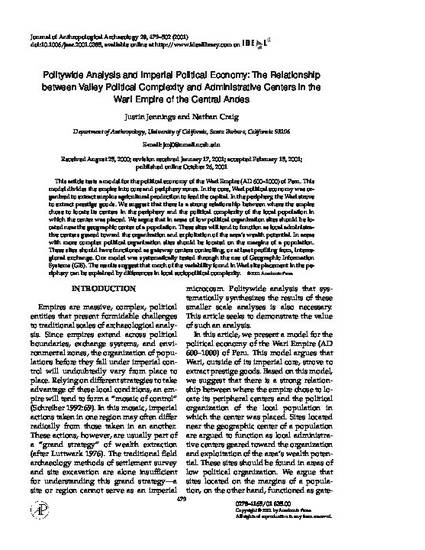 Article
Politywide Analysis and Imperial Political Economy: The Relationship between Valley Political Complexity and Administrative Centers in the Wari Empire of the Central Andes
Journal of Anthropological Archaeology (2001)
Abstract
This article tests a model for the political economy of the Wari Empire (AD 600–1000) of Peru. This model divides the empire into core and periphery zones. In the core, Wari political economy was organized to extract surplus agricultural production to feed the capital. In the periphery, the Wari strove to extract prestige goods. We suggest that there is a strong relationship between where the empire chose to locate its centers in the periphery and the political complexity of the local population in which the center was placed. We argue that in areas of low political organization sites should be located near the geographic center of a population. These sites will tend to function as local administrative centers geared toward the organization and exploitation of the area's wealth potential. In areas with more complex political organization sites should be located on the margins of a population. These sites should have functioned as gateway centers controlling, or at least profiting from, interregional exchange. Our model was systematically tested through the use of Geographic Information Systems (GIS). The results suggest that much of the variability found in Wari site placement in the periphery can be explained by differences in local sociopolitical complexity.
Citation Information
Nathan M Craig and Justin Jennings. "Politywide Analysis and Imperial Political Economy: The Relationship between Valley Political Complexity and Administrative Centers in the Wari Empire of the Central Andes"
Journal of Anthropological Archaeology
Vol. 20 (2001)
Available at: http://works.bepress.com/craig/7/