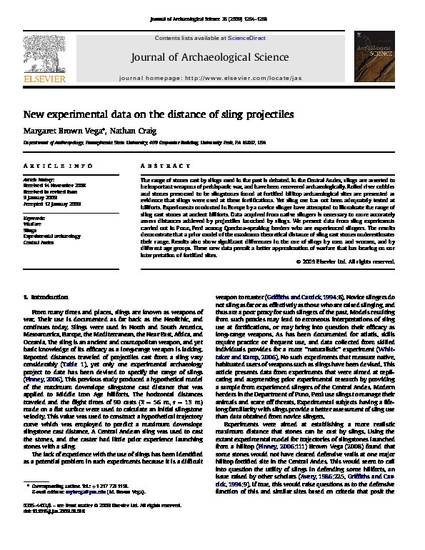 Article
New experimental data on the distance of sling projectiles
Journal of Archaeological Science (2009)
Abstract
The range of stones cast by slings used in the past is debated. In the Central Andes, slings are asserted to be important weapons of prehispanic war, and have been recovered archaeologically. Rolled river cobbles and stones presumed to be slingstones found at fortified hilltop archaeological sites are presented as evidence that slings were used at these fortifications. Yet sling use has not been adequately tested at hillforts. Experiments conducted in Europe by a novice slinger have attempted to illuminate the range of sling cast stones at ancient hillforts. Data acquired from native slingers is necessary to more accurately assess distances achieved by projectiles launched by slings. We present data from sling experiments carried out in Puno, Peru´ among Quechua-speaking herders who are experienced slingers. The results demonstrate that a prior model of the maximum theoretical distance of sling cast stones underestimates their range. Results also show significant differences in the use of slings by men and women, and by different age groups. These new data permit a better approximation of warfare that has bearing on our interpretation of fortified sites.
Keywords
Warfare,
Slings,
Experimental archaeology,
Andes
Citation Information
Margaret Y Brown Vega and Nathan M Craig. "New experimental data on the distance of sling projectiles"
Journal of Archaeological Science
Vol. 36 (2009)
Available at: http://works.bepress.com/craig/2/