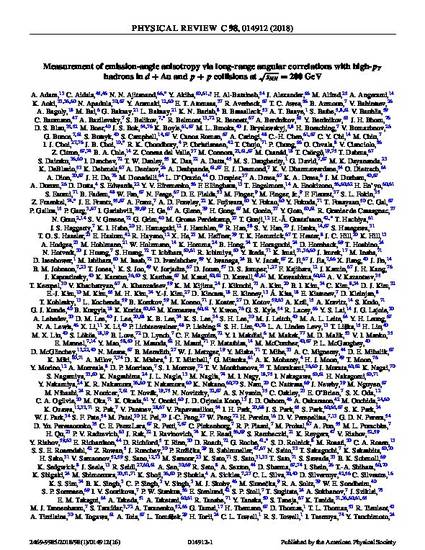 Article
Measurement of emission-angle anisotropy via long-range angular correlations with high-pT hadrons in d + Au and p + p collisions at √sNN = 200 GeV
Physical Review C
Publication Version
Published Version
Publication Date
7-1-2018
DOI
10.1103/PhysRevC.98.014912
Abstract
We present measurements of two-particle angular correlations between high-transverse-momentum (2 < pT < 11 GeV/c) pi(0) observed at midrapidity (|eta| < 0.35) and particles produced either at forward (3.1 < eta < 3.9) or backward (-3.7 < eta < -3.1) rapidity in d + Au and p + p collisions at root s(NN) = 200 GeV. The azimuthal angle correlations for particle pairs with this large rapidity gap in the Au-going direction exhibit a characteristic structure that persists up to pT approximate to 6 GeV/c and which strongly depends on collision centrality, which is a similar characteristic to the hydrodynamical particle flow in A + A collisions. The structure is absent in the d-going direction as well as in p + p collisions, in the transverse-momentum range studied. The results indicate that the structure is shifted in the Au-going direction toward more central collisions, similar to the charged-particle pseudorapidity distributions.
Creative Commons License
Creative Commons Attribution 4.0
Copyright Owner
American Physical Society
File Format
application/pdf
Citation Information
A. Adare, Nicole J. Apadula, Alan Dion, John C. Hill, et al.. "Measurement of emission-angle anisotropy via long-range angular correlations with high-pT hadrons in d + Au and p + p collisions at √sNN = 200 GeV"
Physical Review C
Vol. 98 Iss. 1 (2018) p. 014912
Available at: http://works.bepress.com/craig-ogilvie/296/