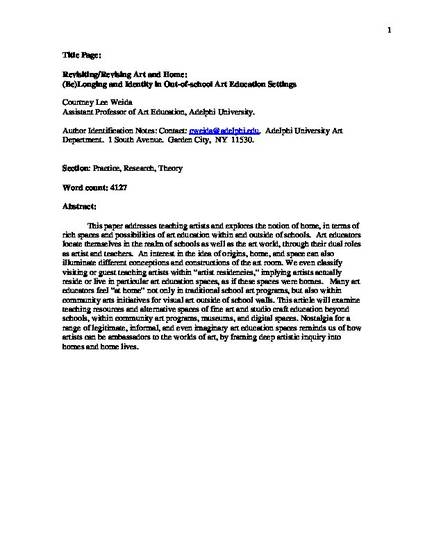 Article
Revisiting/revising art and home: (Be)Longing and identity in out-of-school art education settings
Teaching Artist Journal (2011)
Abstract
This paper addresses teaching artists and explores the notion of home, in terms of rich spaces and possibilities of art education within and outside of schools. Art educators locate themselves in the realm of schools as well as the art world, through their dual roles as artist and teachers. An interest in the idea of origins, home, and space can also illuminate different conceptions and constructions of the art room. We even classify visiting or guest teaching artists within "artist residencies," implying artists actually reside or live in particular art education spaces, as if these spaces were homes. Many art educators feel "at home" not only in traditional school art programs, but also within community arts initiatives for visual art outside of school walls. This article will examine teaching resources and alternative spaces of fine art and studio craft education beyond schools, within community art programs, museums, and digital spaces. Nostalgia for a range of legitimate, informal, and even imaginary art education spaces reminds us of how artists can be ambassadors to the worlds of art, by framing deep artistic inquiry into homes and home lives.
Keywords
art education,
home,
teaching artist
Citation Information
Courtney Lee Weida. "Revisiting/revising art and home: (Be)Longing and identity in out-of-school art education settings"
Teaching Artist Journal
Vol. 9 Iss. 3 (2011)
Available at: http://works.bepress.com/courtney_weida/5/