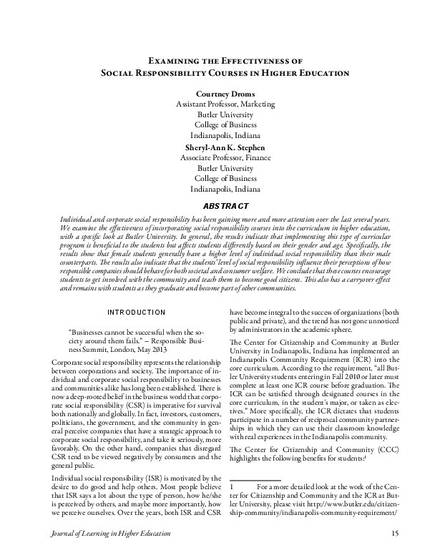 Article
The Effectiveness of Social Responsibility Courses in Higher Education
Journal of Learning in Higher Education
Publication Date
1-1-2015
Additional Publication URL
http://jwpress.com/JLHE/JLHE.htm
Abstract
Individual and corporate social responsibility has been gaining more and more attention over the last several years. We examine the effectiveness of incorporating social responsibility courses into the curriculum in higher education, with a specific look at Butler University. In general, the results indicate that implementing this type of curricular program is beneficial to the students but affects students differently based on their gender and age. Specifically, the results show that female students generally have a higher level of individual social responsibility than their male counterparts. The results also indicate that the students' level of social responsibility influence their perceptions of how responsible companies should behave for both societal and consumer welfare. We conclude that these courses encourage students to get involved with the community and teach them to become good citizens. This also has a carryover effect and remains with students as they graduate and become part of other communities.
Rights
Reprinted with permission of the Journal of Learning in Higher Education. For more information about this journal, please see the information at this
link
.
Citation Information
Courtney Droms Hatch and Sheryl-Ann Stephen. "The Effectiveness of Social Responsibility Courses in Higher Education"
Journal of Learning in Higher Education
Vol. 11 Iss. 2 (2015) p. 15 - 21
Available at: http://works.bepress.com/courtney_droms/12/