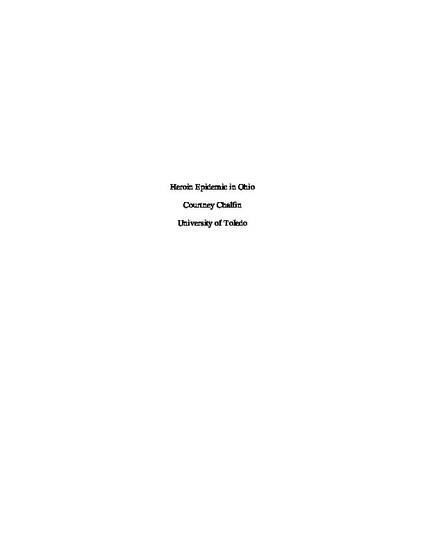 Presentation
Heroin Epidemic in Wood County
Ray Browne Conference (2016)
Abstract
The heroin epidemic has been a major problem not only locally or in the state of Ohio, but throughout the nation. This has caused thousands of people die in the past few years, and this problem needs to end. There a number of factors that have caused this problem, but this paper will discuss these as well as preventative steps after explaining a history of healthcare, a media analysis, and an ethnography of events attended. A brief history of healthcare, including Medicare and Medicaid, the Affordable Care Act, Social Security, and other various laws and practices, shows where the nation has come in terms of financing and availability of services as well to introduce the situation that is happening currently. The discussion of where the problem has come from the history of the problem, which includes the lobbyists and millions of dollars the pharmaceutical company obtains. The media analysis will explain how the news and other sources of media can bring forward a topic of social justice to the audience. Finally, the preventative steps that need to be done must come from the problem at hand, which stems the pharmaceutical company as well as reducing stigmatizing towards those who are facing addictive disorders and creating coalitions in order to educate the public about the problem at hand.
Keywords
heroin,
epidemic,
coalition
Publication Date
Winter December, 2016
Location
Bowling Green State University
Citation Information
Courtney Chalfin. "Heroin Epidemic in Wood County"
Ray Browne Conference
(2016)
Available at: http://works.bepress.com/courtney-chalfin/1/