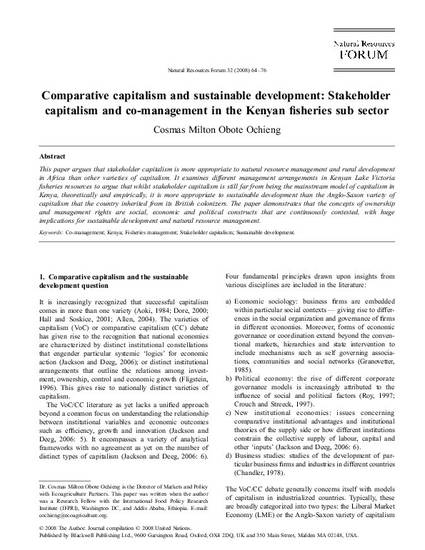 Article
Comparative capitalism and sustainable development: Stakeholder capitalism and co-management in the Kenyan fisheries sub sector
Natural Resources Forum (2008)
Abstract
This paper argues that stakeholder capitalism is more appropriate to natural resource management and rural development in Africa than other varieties of capitalism. It examines different management arrangements in Kenyan Lake Victoria fisheries resources to argue that whilst stakeholder capitalism is still far from being the mainstream model of capitalism in Kenya, theoretically and empirically, it is more appropriate to sustainable development than the Anglo-Saxon variety of capitalism that the country inherited from its British colonizers. The paper demonstrates that the concepts of ownership and management rights are social, economic and political constructs that are continuously contested, with huge implications for sustainable development and natural resource management.
Keywords
Co-management; Kenya; Fisheries management; Stakeholder capitalism; Sustainable development
Citation Information
Cosmas Milton Obote Ochieng Ochieng. "Comparative capitalism and sustainable development: Stakeholder capitalism and co-management in the Kenyan fisheries sub sector"
Natural Resources Forum
(2008)
Available at: http://works.bepress.com/cosmas_ochieng/5/