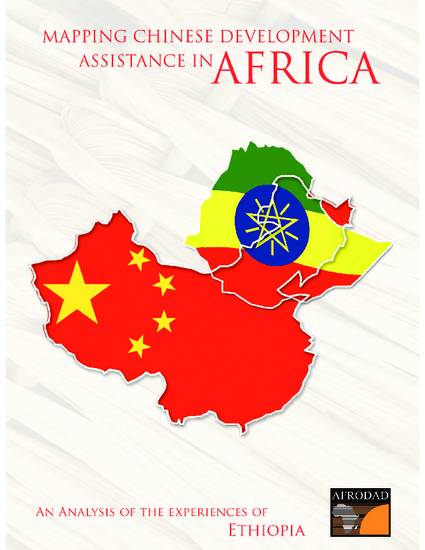 Other
Mapping Chinese Development Assistance in Africa: An Analysis of the Experiences of Ethiopia
(2011)
Abstract
In November 2008 AFRODAD published a report "Mapping Chinese Development Assistance in Africa – An analysis of the experiences of Angola, Mozambique, Zambia, and Zimbabwe." This report specifically looking at Ethiopia is a follow up to that report.
China is one of the fastest-growing countries in the world, and is expanding its presence in Africa. According to the Economist (19/02/2011) China officially passed Japan to become the world's second biggest economy. China's GDP amounted to $5.9 trillion against Japan's $5.5 trillion. In addition, China has been more than willing to play the role of key development aid partner and investor in Africa. Development assistance continues to be one of main instruments of international cooperation. In effect, development assistance has become an important ingredient in financing national budgets in many African countries. Governments are increasingly allocating a big portion of development assistance towards key sectors of development.
Some African countries, are increasingly following a more "look East" policy, hence China is steadily becoming an alternative to the traditional western donors. This report maps the history of Sino-Ethiopian aid and investment relations and analyses the linkages between China's involvement in Ethiopia and development in Ethiopia. The report describes in detail the nature and sectoral distribution of Chinese Development Assistance at the same time listing the major projects that China is involved in Ethiopia by economic sector. More critically, the report describes plausible mechanisms on how Ethiopia can negotiate and administer Chinese aid and investments and how Chinese Development Assistance can, if properly managed, lead to Ethiopia's Debt Sustainability. The report concludes by giving actionable policy recommendations to both government and civil society as to how best Cameroon can equitably benefit and sustain its relationship with China in the future.
Publication Date
Summer August, 2011
Citation Information
Cosmas Milton Obote Ochieng Ochieng. "Mapping Chinese Development Assistance in Africa: An Analysis of the Experiences of Ethiopia" (2011)
Available at: http://works.bepress.com/cosmas_ochieng/12/