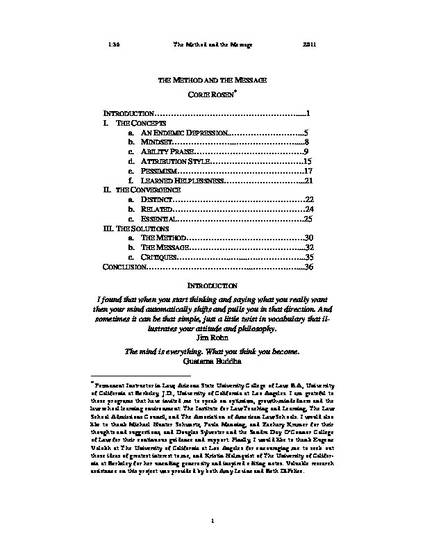 Unpublished Paper
The Method and the Message
ExpressO (2011)
Abstract
This paper proposes a new framework for understanding some of the sources of law student depression. Primarily, this article argues that a possible source of law student distress is the institutional encouragement of a fixed, or entity theory of intelligence, which is communicated to students through various forms of ability praise. This article will establish the methods by which that ability praise is communicated and will go on to suggest that the entity theory of intelligence, as fostered through ability praise, can be examined through the lens of the literature of Positive Psychology. This article will argue that the fixed-mindset is an example of a pessimistic approach to learning - one that contributes to law students' feelings of helplessness, lowered sense of autonomy support, learned helplessness, and depression. Ultimately, this article will suggests methods that professors and institutions can employ to combat the entity theory of intelligence, pessimistic attribution style, and the depression problem that so much research suggests is a pervasive problem in contemporary American law schools.
Keywords
Positive psychology,
mindset,
attribution style,
depression
Publication Date
March 2, 2011
Citation Information
Corie Rosen. "The Method and the Message"
ExpressO
(2011)
Available at: http://works.bepress.com/corie_rosen/2/