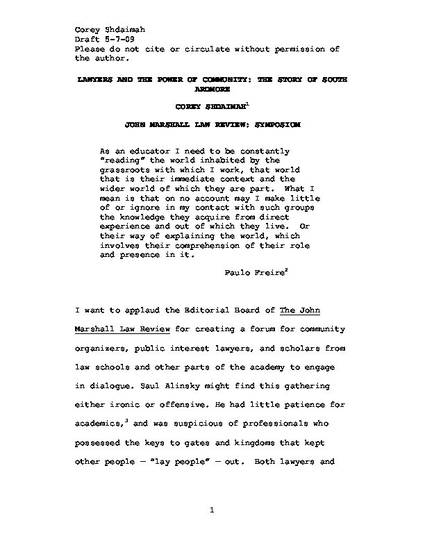 Article
LAWYERS AND THE POWER OF COMMUNITY: THE STORY OF SOUTH ARDMORE
John Marshall Law Review (2010)
Abstract
Community organizing and lawyering have often been seen as incompatible. Lawyers are said to take over, many legal remedies are not amenable to and even dampen lay participation, and legal efforts can siphon money and other scarce resources. However, community organizations choose to seek out legal assistance for the benefits it provides despite their awareness of the dangers of working with lawyers and engaging the law. Much of the more recent literature shows that lawyers working with community organizations are also sensitive to these potential risks and benefits. This article presents the author's efforts to organize her South Ardmore community in a school redistricting battle as a case study. Using her experiences to assess the collaboration of lawyers and organizers in grassroots movements, she describes the deliberations about whether and how to engage lawyers and pursue legal action. The case study provides a more nuanced understanding of why community organizers may choose to work with lawyers, and how lawyers and community organizers can work together in ways that enhance their social change efforts and minimize the risks of legal action. Organizers and lawyers must be willing to engage in fluid partnerships that look past preconceived notions or templates for shared action in order to develop strategies that account for the specific resources, context, and goals of particular communities engaged in particular struggles.
Keywords
Community Organzing,
Public Interest Law,
Cause Lawyering
Citation Information
Corey S Shdaimah. "LAWYERS AND THE POWER OF COMMUNITY: THE STORY OF SOUTH ARDMORE"
John Marshall Law Review
(2010)
Available at: http://works.bepress.com/corey_shdaimah/3/