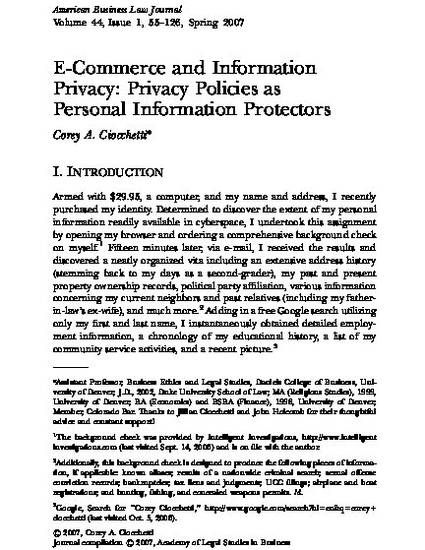 Article
E-Commerce and Information Privacy: Privacy Policies as Personal Information Protectors
American Business Law Journal (2007)
Abstract
This article dives into the contemporary debate surrounding information privacy in the twenty-first century e-commerce environment through the lens of consumers submitting personally identifying information into the vast abyss of cyberspace. I argue that this information must be better protected and that United States law should emphasize electronic privacy policies as privacy-protecting devices. Currently, the United States operates under primarily a self-regulatory environment where the federal and state governments allow industry to regulate the use and content of their privacy policies. This article details current state of the United States legal regime, addresses its inefficiencies in this area and proposes a new federal law designed to remedy this situation. This piece argues that with minimal governmental regulation, electronic privacy policies can become effective tools to protect consumers personally identifying information.
Keywords
privacy policies,
privacy policy,
online privacy,
personally identiffying information,
personally identifiable information,
e-commerce,
data trade,
data collection,
law and technology,
computer law,
data mining,
data brokers,
Internet Law,
Consumer Protection
Citation Information
Corey A Ciocchetti. "E-Commerce and Information Privacy: Privacy Policies as Personal Information Protectors"
American Business Law Journal
Vol. 44 Iss. 1 (2007)
Available at: http://works.bepress.com/corey_ciocchetti/4/