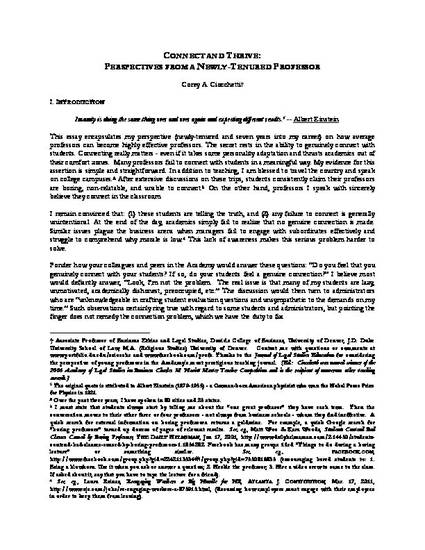 Article
Connect & Thrive: Perspectives of a Newly Tenured Professor
Journal of Legal Studies Education (2011)
Abstract
This essay encapsulates my perspective (newly-tenured and seven years into my career) on how average professors can become highly effective professors. The secret rests in the ability to genuinely connect with students. Connecting really matters - even if it takes some personality adaptation and thrusts academics out of their comfort zones. Many professors fail to connect with students in a meaningful way. My evidence for this assertion is simple and straightforward. In addition to teaching, I am blessed to travel the country and speak on college campuses.3 After extensive discussions on these trips, students consistently claim their professors are boring, non-relatable, and unable to connect. On the other hand, professors I speak with sincerely believe they connect in the classroom.
I remain convinced that: (1) these students are telling the truth, and (2) any failure to connect is generally unintentional. At the end of the day, academics simply fail to realize that no genuine connection is made. Similar issues plague the business arena when managers fail to engage with subordinates effectively and struggle.
The following stereotypes come from an online college guide and typify professors who fail to connect. Can you find yourself and your colleagues on this list?
• DR. BURNOUT - This professor has been teaching for way too long and secretly wishes he could run off to a tropical beach and sell snow cones for a living. He lacks enthusiasm and could care less if you learn anything. Dr. Burnout probably has tenure, so complaining won't help.
• DR. EGO TRIP - Don't you dare call Dr. Ego Trip by her first name or otherwise indicate that she is not a goddess. In all likelihood, something awful happened in the childhood of this angry professor to cause her overblown sense of self, but this is not your concern.
• DR. PRIMA DONNA - He would rather be doing research than teaching your class. If he's at a liberal arts college, he is infuriated that he can't get a job at a research institution, where he wouldn't have to deal with peons like you all day.
• DR. DRONE - Brilliant words might be coming out of her mouth, but she may as well be reciting the phone book. And Dr. Drone likes to talk, so she goes on and on and on and on. If you have to take a class with Dr. Drone, make sure it's not an early morning class.
• DR. DOGMA - Dr. Dogma wants to indoctrinate you with ideas, especially political ones. Now, all professors are entitled to express their opinions, so just because a professor is open about politics doesn't mean he is Dr. Dogma. However, if your professor refuses to politely discuss ideas with the class, or gives students lower grades if they disagree with him, you are dealing with Dr. Dogma.
There are kernels of truth found in the personalities above. In fact, each of us can perhaps identify all five types among our colleagues. The idea that faculty members do not see themselves as Dr. Drones when they clearly drone on for entire class sessions or Dr. Prima Donnas when they act like they cannot be bothered causes tension with students. Like it or not, students across the country scream out on their evaluations and online that they expect their college professors to do better.7 The second part of this essay ponders how to remedy this problem by genuinely connecting with students and, thereby, thriving in the classroom.
Keywords
Teaching,
connect with students,
student evaluations,
classroom performance,
effective professors,
effective teaching,
connect in the classroom,
teaching strategies,
college professors,
teaching improvement
Publication Date
Fall August, 2011
Citation Information
Corey A Ciocchetti. "Connect & Thrive: Perspectives of a Newly Tenured Professor"
Journal of Legal Studies Education
Vol. 28 Iss. 2 (2011)
Available at: http://works.bepress.com/corey_ciocchetti/23/