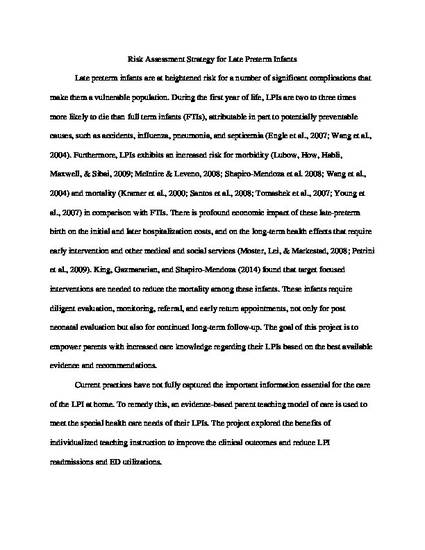 Article
Risk Assessment Strategy for Late Preterm Infants
DNP Forum
Abstract
Late preterm infants (LPIs), born between 34 and 36 6/7 weeks gestation, face many challenges. These infants comprise 71% of preterm births and 8.7% of all births in the United States (Hamilton, Martin, & Ventura, 2010). They have a higher incidence of medical complications than their full-term counterparts leading to longer hospital stays or readmissions (Consortium on Safe Labor, 2010; Khashu, Narayanan, Bhargava, & Osiovich, 2009; Pulver et al., 2010). The nurse's role in educating parents of LPIs is pertinent as these babies are at heightened risk for a number of significant complications. The purpose of this project is to determine if adopting an evidence-based parent teaching model of care will improve clinical outcomes, build parents' skills and self-confidence in caring for their LPIs at home, and reduce hospital readmissions. "Late Preterm Infants: What Parents Need to Know," a free patient education brochure, which is available in English and Spanish from Association of Women's Health, Obstetric and Neonatal Nurse's LPI Initiative. The parents were given a pre and post questionnaire on the material presented in the teaching. Follow-up phone calls were made to collect data regarding emergency room visits or hospitalizations to the mother at 1 month from the discharge date.Even though there were no readmissions between the two groups, the study shows a significant gap in the parental knowledge in taking care of these infants. Hence, this researcher felt the implementation of a LPI teaching tool ensures care is evidence-based and provides a framework for measuring patient outcomes.
Citation Information
Nisha Nair and Constance Hill. "Risk Assessment Strategy for Late Preterm Infants"
Available at: http://works.bepress.com/constance_hill/10/