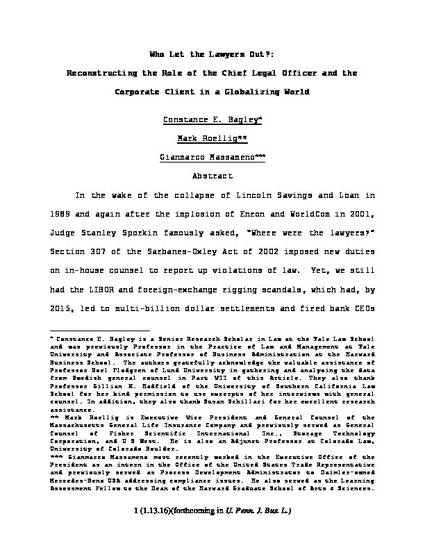 Article
Who Let the Lawyers Out?: Reconstructing the Role of the Chief Legal Officer and the Corporate Client in a Globalizing World
University of Pennsylvania Journal of Business Law (2016)
Abstract
In the wake of the collapse of Lincoln Savings and Loan in  1989 and again after the implosion of Enron and WorldCom in 2001, Judge Stanley Sporkin famously asked, "Where were the lawyers?" Section 307 of the Sarbanes-Oxley Act of 2002 imposed new duties on in-house counsel to report up violations of law.  Yet, we still had the LIBOR and foreign-exchange rigging scandals, which had, by 2015, led to multi-billion dollar settlements and fired bank CEOs in England and Germany; rampant insider trading by hedge funds and corporate titans; the subprime mortgage crisis; the option backdating scandals; and massive recalls by automotive manufacturers Toyota, General Motors, and Volkswagen.  We submit that legislation and regulatory action alone are and will continue to be insufficient to deter corporate misconduct of the sort we have experienced in the last two decades.  As in-house counsel have become more entrepreneurial in both the United States and elsewhere, and as many business schools have failed to adequately prepare future managers to address the legal and ethical aspects of business, more attention must be focused on the internal forces within companies.  In addition to addressing Judge Sporkin's question, we must ask, "Where were the managers?"  In this Article, we provide new data on the role of in-house counsel in Sweden and assert that counsel and managers can be more effective drivers of both compliant corporate behavior and the creation of sustainable value if they work together as strategic partners, that is, when corporate managers are legally astute and are advised by strategically astute counsel.
Keywords
strategy,
ethics,
counsel,
legal astuteness,
compliance,
corporate governance
Citation Information
Constance E. Bagley, Mark Roellig and Gianmarco Massameno. "Who Let the Lawyers Out?: Reconstructing the Role of the Chief Legal Officer and the Corporate Client in a Globalizing World"
University of Pennsylvania Journal of Business Law
(2016)
Available at: http://works.bepress.com/constance_bagley/3/