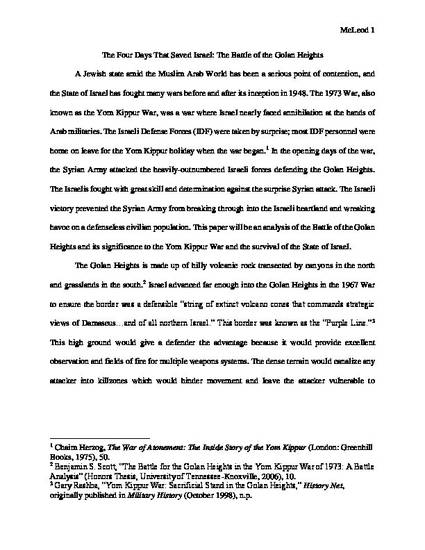 Unpublished Paper
The Four Days That Saved Israel: The Battle of the Golan Heights
(2017)
Abstract
The Israeli Defense Forces (IDF) were taken by surprise when Egypt and Syria attacked Israel on Yom Kippur, 6 October 1973. Only two IDF brigades of a few thousand men stood between 60,000 Syrian soldiers and the Israeli heartland. The Israelis fought almost to the point of annihilation until reinforcements arrived and counterattacked into Syria, shifting momentum in Israel's favor. The Israeli troops used their superior training and equipment to overcome tactical surprise and inferior numbers to hold the line and prevent Israel from being destroyed.
Publication Date
Spring March 5, 2017
Citation Information
Connor L McLeod. "The Four Days That Saved Israel: The Battle of the Golan Heights" (2017)
Available at: http://works.bepress.com/connor-mcleod/5/
Creative Commons License
This work is licensed under a Creative Commons CC_BY International License.