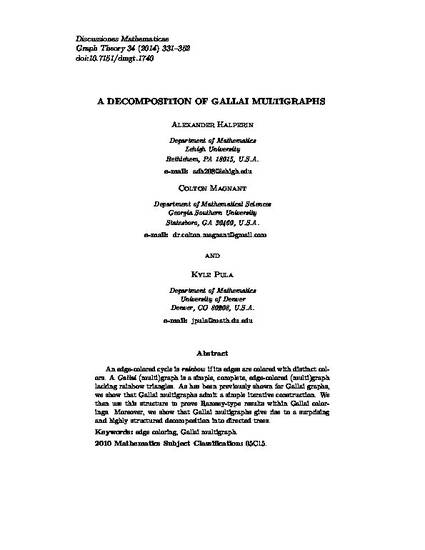 Article
A Decomposition of Gallai Multigraphs
Discussiones Mathematicae Graph Theory
Publication Date
1-1-2014
Abstract
An edge-colored cycle is rainbow if its edges are colored with distinct colors. A Gallai (multi)graph is a simple, complete, edge-colored (multi)graph lacking rainbow triangles. As has been previously shown for Gallai graphs, we show that Gallai multigraphs admit a simple iterative construction. We then use this structure to prove Ramsey-type results within Gallai colorings. Moreover, we show that Gallai multigraphs give rise to a surprising and highly structured decomposition into directed trees.
Citation Information
Alexander Halperin, Colton Magnant and Kyle Pula. "A Decomposition of Gallai Multigraphs"
Discussiones Mathematicae Graph Theory
Vol. 34 (2014) p. 331 - 352 ISSN: 2083-5892
Available at: http://works.bepress.com/colton_magnant/44/