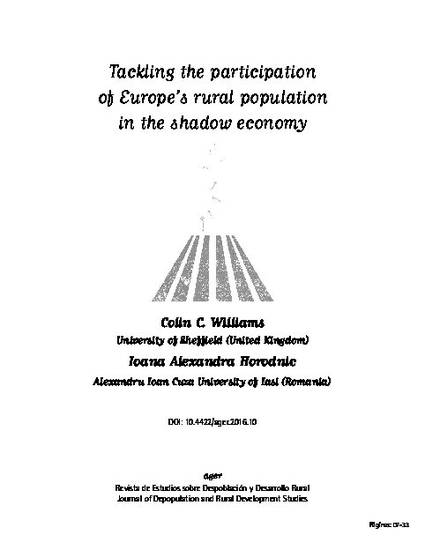 Article
Tackling the participation of Europe's rural population in the shadow economy
Ager: Journal of Depopulation and Rural Development Studies (2017)
Abstract
To tackle the shadow economy, an emergent literature has called for the conventional
rational economic actor approach (which uses deterrents to ensure that the costs of engaging in shadow
work outweigh the benefits) to be replaced or complemented by a social actor approach which focuses
upon improving tax morale. To evaluate the relevance and validity of doing this in rural areas, we here report
face-to-face interviews conducted with 9,677 rural dwellers conducted across the 28 member states of the
European Union (EU28) in 2013. Multilevel logistic regression analysis reveals that both approaches significantly
reduce the rural shadow economy. When tax morale is high, however, deterrence measures have little
impact on reducing the rural shadow economy and it is only when tax morale is low that raising the level
of deterrents has greater impacts, with increasing the risks of detection (which is problematic in dispersed
rural populations) leading to higher reductions in the rural shadow economy than increasing punishments.
The paper thus concludes by calling for greater emphasis in rural areas on improving tax morale to tackle
the shadow economy in Europe and beyond.
Keywords
informal economy,
informal sector,
rural economies,
rural development,
rural studies,
European studies,
tax morale,
institutional theory
Publication Date
Summer June 1, 2017
Citation Information
Colin C Williams and Ioana Horodnic. "Tackling the participation of Europe's rural population in the shadow economy"
Ager: Journal of Depopulation and Rural Development Studies
Vol. 23 (2017) p. 7 - 33
Available at: http://works.bepress.com/colin_williams/93/