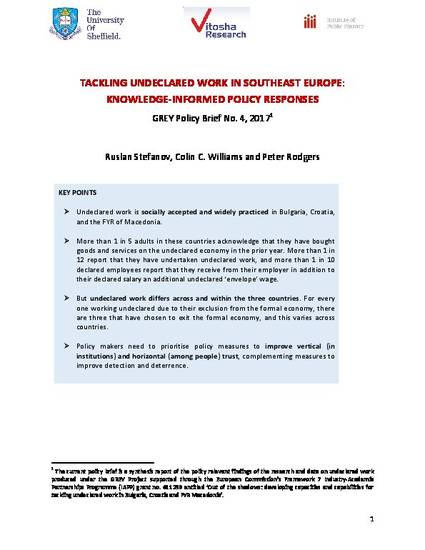 Book
TACKLING UNDECLARED WORK IN SOUTHEAST EUROPE: KNOWLEDGE-INFORMED POLICY RESPONSES
(2017)
Abstract
Ø
Undeclared work is
socially accepted and widely practiced
in Bulgaria, Croatia, and the FYR of Macedonia.
Ø
More than 1 in 5 adults in these countries acknowledge that they have bought goods and services on the undeclared economy in the prior year. More than 1 in 12 report that they have undertaken undeclared work, and more than 1 in 10 declared employees report that they receive from their employer in addition to their declared salary an additional undeclared 'envelope' wage.
Ø
But
undeclared work differs across and within the three countries
. For every one working undeclared due to their exclusion from the formal economy, there are three that have chosen to exit the formal economy, and this varies across countries.
Ø
Policy makers need to prioritise policy measures to
improve vertical (in institutions) and horizontal (among people) trust
, complementing measures to improve detection and deterrence.
Keywords
informal economy,
economics,
development economics,
development studies,
economic development,
labor economics,
economic sociology,
undeclared work,
European Studies,
social science,
economic geography,
informal sector,
shadow economy,
tax
Publication Date
Summer August 26, 2017
Publisher
Sheffield University Management School, University of Sheffield
Citation Information
Colin C Williams. TACKLING UNDECLARED WORK IN SOUTHEAST EUROPE: KNOWLEDGE-INFORMED POLICY RESPONSES. Sheffield(2017)
Available at: http://works.bepress.com/colin_williams/77/