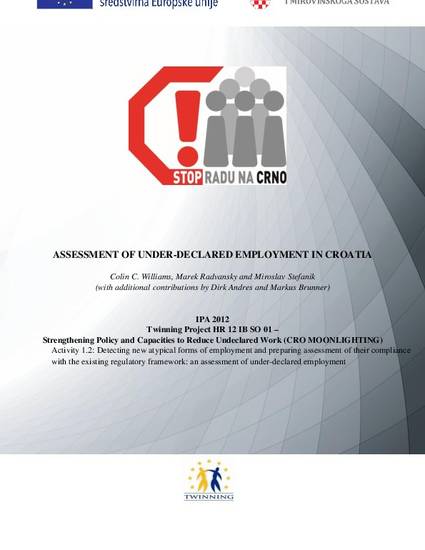 Book
ASSESSMENT OF UNDER-DECLARED EMPLOYMENT IN CROATIA
(2017)
Abstract
This report evaluates 'under-declared employment', which is the practice where a formal employer pays a formal employee an official declared wage but also an additional undeclared (envelope) wage in order to evade the full social insurance and tax liabilities owed. The aim is to evaluate the prevalence, characteristics and distribution of this fraudulent wage practice in Croatia, to explain its existence, and to provide an evidence-based evaluation of the different policy approaches for tackling it, and a set of policy recommendations. 
Keywords
social science,
economic sociology,
economic development,
informal economy,
labor economics,
informal sector,
public policy,
public administration
Publication Date
Summer June 8, 2017
Publisher
Croatian Ministry of Labour and Pensions
Citation Information
Colin C Williams, Miroslav Radvansky and Miroslav Stefanik. ASSESSMENT OF UNDER-DECLARED EMPLOYMENT IN CROATIA. Zagreb(2017)
Available at: http://works.bepress.com/colin_williams/54/
Creative Commons license
This work is licensed under a Creative Commons CC_BY International License.