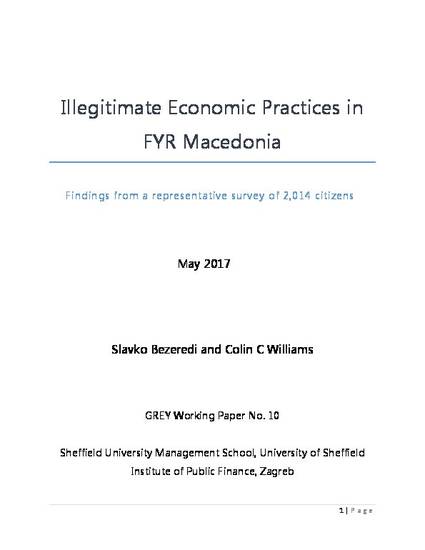 Book
Illegitimate Economic Practices in FYR Macedonia
(2017)
Abstract
This report presents the findings of a survey on illegitimate economic practices in FYR Macedonia conducted between August and October 2015. This representative survey of 2,014 citizens focused on their experiences with undeclared work, envelope wages and the practice of 'pulling strings', as well as on their opinion about these types of non-compliant behaviour.
According to the respondents, non-compliant practices are strongly ingrained in Macedonian society. Some 35% use personal connections in order to circumvent rules and procedures, 17.7% purchase undeclared goods and services, 6.1% work in the undeclared economy and 13% of employees receive envelope wages from their employer. However, these should all be treated as lower-bound estimates, given that surveys tend to under-report participation when sensitive issues are being investigated.
Analysing involvement in undeclared work, nevertheless, the findings reveal that tax morale and personal views on the extent to which others participate are key determinants. The lower one's tax morale (i.e., level of 'vertical trust'), the higher the propensity to participate in the undeclared economy (and this applies to both the demand and supply sides). Likewise, the higher is the perceived number engaged in such activity (i.e., the level of 'horizontal trust'), the more likely is a citizen to engage in illegitimate economic practices.
To tackle illegitimate practices, therefore, citizens do not believe that increasing the penalties and risks of detection would be an effective approach. Instead, the prevalent opinion is that undeclared work can only be reduced by improving the social contract between the authorities and citizens, and this should be done first and foremost by changing formal institutions. Citizens widely believe that there is a need for a change in the way in which enforcement agencies treat citizens, namely more collaboration and less coercion on the part of the inspectors, as well as the provision of equal treatment across all groups of citizens, and a sense of fair treatment by public and government institutions.
Keywords
informal economy,
public policy,
shadow economy,
social science,
economics,
sociology
Publication Date
Spring May 11, 2017
Publisher
Sheffield University Management School, University of Sheffield
Citation Information
Colin C Williams and Slavko Bezeredi. Illegitimate Economic Practices in FYR Macedonia. Sheffield(2017)
Available at: http://works.bepress.com/colin_williams/53/
Creative Commons license
This work is licensed under a Creative Commons CC_BY International License.