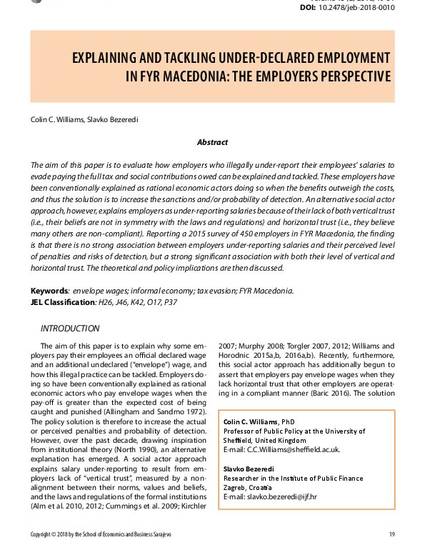 Article
Explaining and tackling under-declared employment in FYR Macedonia: the employers perspective
South East European Journal of Economics and Business (2018)
Abstract
The aim of this paper is to evaluate how employers who illegally under-report their employees' salaries to
evade paying the full tax and social contributions owed can be explained and tackled. These employers have
been conventionally explained as rational economic actors doing so when the benefits outweigh the costs,
and thus the solution is to increase the sanctions and/or probability of detection. An alternative social actor
approach, however, explains employers as under-reporting salaries because of their lack of both vertical trust
(i.e., their beliefs are not in symmetry with the laws and regulations) and horizontal trust (i.e., they believe
many others are non-compliant). Reporting a 2015 survey of 450 employers in FYR Macedonia, the finding
is that there is no strong association between employers under-reporting salaries and their perceived level
of penalties and risks of detection, but a strong significant association with both their level of vertical and
horizontal trust. The theoretical and policy implications are then discussed.
Keywords
informal economy,
envelope wages,
informal sector,
labor economics,
shadow economy,
labour economics,
Macedonia,
economic sociology,
business ethics,
business,
tax evasion,
labour law,
labor law
Publication Date
Fall October 25, 2018
DOI
10.2478/jeb-2018-0010
Citation Information
Colin C Williams and Slavko Bezeredi. "Explaining and tackling under-declared employment in FYR Macedonia: the employers perspective"
South East European Journal of Economics and Business
Vol. 13 Iss. 2 (2018) p. 19 - 31
Available at: http://works.bepress.com/colin_williams/100/