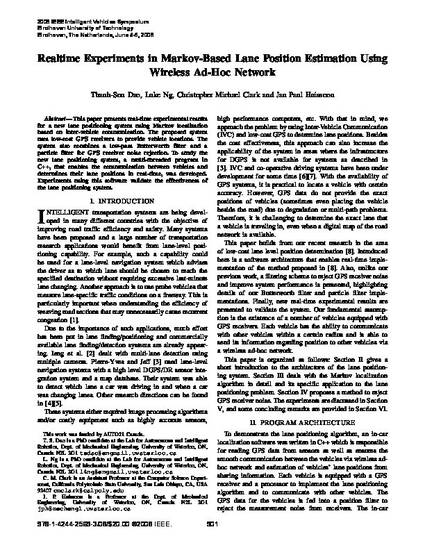 Presentation
Realtime Experiments in Markov-Based Lane Position Estimation Using Wireless Ad-Hoc Network
Proceedings of the 2008 IEEE Intelligent Vehicles Symposium: Eindhoven, The Netherlands
Publication Date
6-4-2008
Abstract
This paper presents real-time experimental results for a new lane positioning system using Markov localization based on inter-vehicle communication. The proposed system uses low-cost GPS receivers to provide vehicle locations. The system also combines a low-pass Butterworth filter and a particle filter for GPS receiver noise rejection. To study the new lane positioning system, a multi-threaded program in C++, that enables the communication between vehicles and determines their lane positions in real-time, was developed. Experiments using this software validate the effectiveness of the lane positioning system.
Citation Information
Thanh-Son Dao, Luke Ng, Christopher M. Clark and Jan Paul Huissoon. "Realtime Experiments in Markov-Based Lane Position Estimation Using Wireless Ad-Hoc Network"
Proceedings of the 2008 IEEE Intelligent Vehicles Symposium: Eindhoven, The Netherlands
(2008) p. 901 - 906
Available at: http://works.bepress.com/cmclark/2/