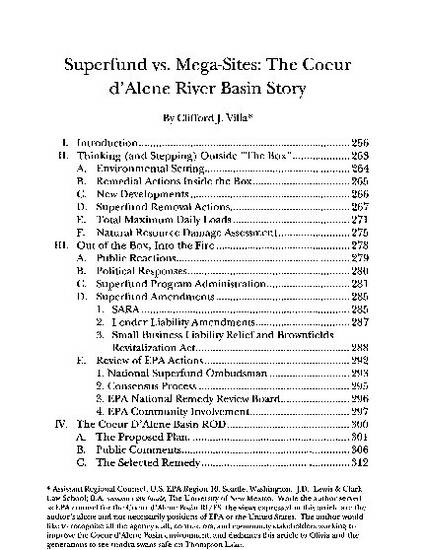 Article
Superfund vs. Mega-Sites: The Coeur d'Alene River Basin Story
Columbia Journal of Environmental Law
Publication Date
1-1-2003
Abstract
Stretching across the "panhandle" of northern Idaho, the Coeur d'Alene River Basin evokes a mixed sense of wonder. Within this vast region of mountains and marshes, forests and farmland, creeks and canyons, a vibrant mining industry emerged more than a century ago. Along with the mining industry came the mining towns-and the mining pollution. Over time, the volume of mining wastes discharged into waters of the Coeur d'Alene Basin reached Brobdingnagian proportions: enough waste to fill a football field with a pile four miles high.
Citation Information
Clifford J. Villa. "Superfund vs. Mega-Sites: The Coeur d'Alene River Basin Story"
Columbia Journal of Environmental Law
Vol. 28 (2003) p. 255
Available at: http://works.bepress.com/clifford-villa/13/