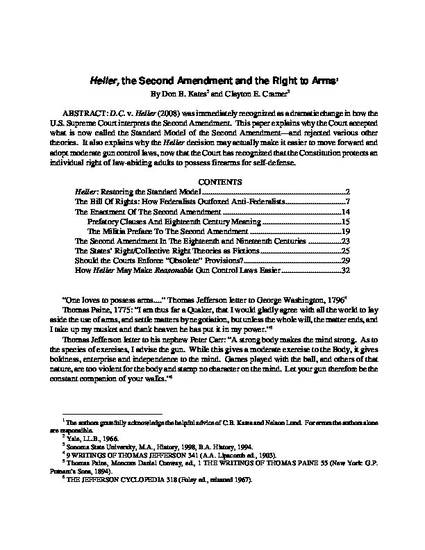 Unpublished Paper
Heller, the Second Amendment, and the Right to Arms
ExpressO (2008)
Abstract
D.C. v. Heller (2008) was immediately recognized as a dramatic change in how the U.S. Supreme Court interprets the Second Amendment. This paper explains why the Court accepted what is now called the Standard Model of the Second Amendment—and rejected various other theories. It also explains why the Heller decision may actually make it easier to move forward and adopt moderate gun control laws, now that the Court has recognized that the Constitution protects an individual right of law-abiding adults to possess firearms for self-defense.
Publication Date
July 3, 2008
Citation Information
Clayton E Cramer. "Heller, the Second Amendment, and the Right to Arms"
ExpressO
(2008)
Available at: http://works.bepress.com/clayton_cramer/1/