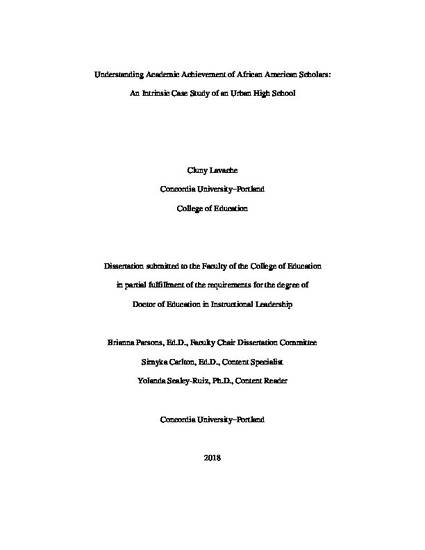 Dissertation
Understanding Academic Achievement of African American Scholars- An Intrinsic Case Study of an Urban High School by Cluny Lavache.docx
(2018)
Abstract
This qualitative intrinsic case study focused on the academic achievement and success of African American alumni students in an urban school district in New York City. The researcher sought to answer the following research questions: (1) How do urban, African American high school alumni perceive and describe the quality of education they received as impactful to their success? (2) How do alumni students describe the social and cultural factors that contributed to and influenced the quality of education they received? and (3) How do such factors influence their trajectory towards high academic achievement and/or success. Data were gathered utilizing three sources: semi-structured interviews with alumni students from 2007 to 2016, high school transcripts, and personal artifacts that were impacted by the students' experience at Woodbine Academy High School (WAHS). Information was gathered to determine the social and cultural factors that contributed to the high success rates of African Americans as lived and experienced by the alumni students. Data analysis captured and documented the alumni participants' voices, which presented the counter-narrative to the deficit model. This descriptive case study of eight alumni student participants revealed four themes that resonated throughout the data analysis. Alumni participants perceived the social and cultural factors that impacted their success were: passion as reflected by the teachers' content knowledge and interaction, belonging, access and opportunity, and expectations.
Keywords
academic achievement,
African American,
racial congruency,
culturally responsive/relevant
Publication Date
November, 2018
Degree
Doctorate of Education, Ed. D.
Field of study
Instructional Leadership
Advisors
Brianna Parsons, Ed.D., Simyka Carlton, Ed.D., Yolanda Sealey-Ruiz, Ph.D.,
Citation Information
Cluny Lavache. "Understanding Academic Achievement of African American Scholars- An Intrinsic Case Study of an Urban High School by Cluny Lavache.docx" (2018)
Available at: http://works.bepress.com/clavache/1/