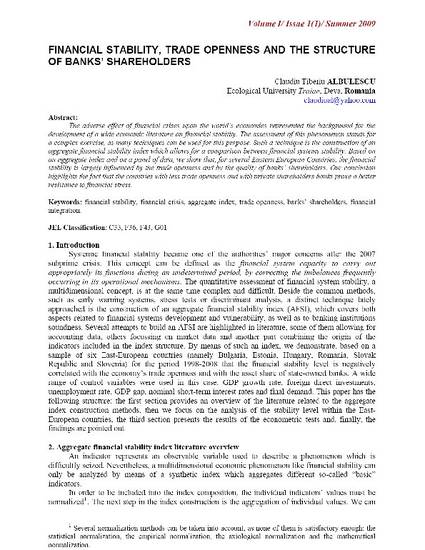 Article
Financial Stability, Trade Openness and the Structure of Banks' Shareholders
Journal of Applied Research in Finance (2009)
Abstract
The adverse effect of financial crises upon the world's economies represented the background for the development of a wide economic literature on financial stability. The assessment of this phenomenon stands for a complex exercise, as many techniques can be used for this purpose. Such a technique is the construction of an aggregate financial stability index which allows for a comparison between financial systems stability. Based on an aggregate index and on a panel of data, we show that, for several Eastern European Countries, the financial stability is largely influenced by the trade openness and by the quality of banks' shareholders. Our conclusion highlights the fact that the countries with less trade openness and with private shareholders banks prove a better resistance to financial stress.
Keywords
financial stability,
financial crisis,
aggregate index,
trade openness,
banks' shareholders,
financial integration
Publication Date
Summer 2009
Citation Information
Claudiu T Albulescu. "Financial Stability, Trade Openness and the Structure of Banks' Shareholders"
Journal of Applied Research in Finance
Vol. 1 Iss. 1 (2009)
Available at: http://works.bepress.com/claudiu_albulescu/6/