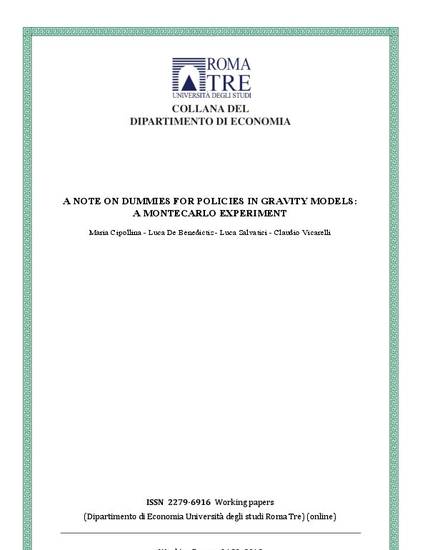 Unpublished Paper
A Note on Dummies for Policies in Gravity Models: a Montecarlo Experiment
Roma 3 Dipartimento di Economia Working Paper n.180 (2013)
Abstract
The use of the gravity model to evaluate the effect of policies in a cross-country framework is largely predominant in the international economics empirical literature. This literature usually implements importer and exporter fixed effects to account for the theoretical Multilateral Trade Resistances, while preferential trade policies are approximated through the use of dummy variables. Results from a Monte Carlo experiment confirms that the identification of trade policy impact using a gravity equation including fixed effects is severely limited. Moreover, the consequences of the error in measurement of the policy variable are magnified by the fixed effects control for unobserved heterogeneity.
Keywords
Gravity Models,
Policy Evaluations,
Montecarlo Analysis
Publication Date
September, 2013
Citation Information
Claudio Vicarelli, Maria Pina Cipollina, Luca Salvatici and Luca De Benedictis. "A Note on Dummies for Policies in Gravity Models: a Montecarlo Experiment"
Roma 3 Dipartimento di Economia Working Paper n.180
(2013)
Available at: http://works.bepress.com/claudio_vicarelli/16/