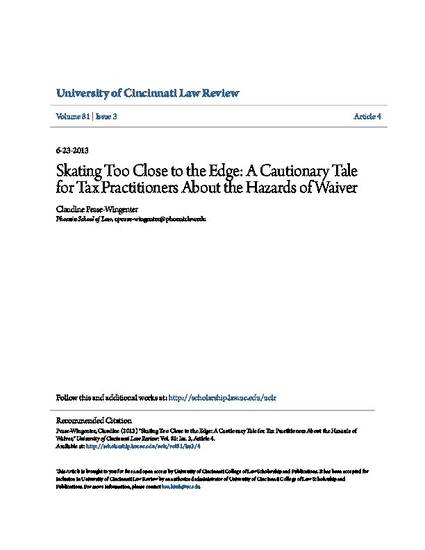 Article
Skating Too Close to the Edge: A Cautionary Tale for Tax Practitioners about the Hazards of Waiver
U. Cin. L. Rev (2013)
Abstract
The Federal Rules of Evidence defer to common law in establishing the rules of attorney-client privilege. As a general matter, such an approach creates a fairly uncertain legal landscape as each court articulates the baseline rules somewhat differently. The varied judicial applications of those differing rules can then exacerbate the uncertainty even more.
Unfortunately, in the area of tax law, the rules and their application are particularly uncertain because attorneys and accountants have overlapping responsibilities to clients and the courts have historically refused to recognize an accountant-client privilege. During my approximately eight years practicing corporate tax law, I was acutely aware of the tremendous confusion and uncertainty about the application of attorney-client privilege in my discipline. Both the Tax Bar and the courts were confused about the application of the rules and the extent to which privilege applied. When I became an academic, I resolved to focus my scholarship in this area to bring clarity and guidance to the muddled state of the common law.
This article is the third in a trilogy of articles that sheds light on the application of privilege in the area of tax. The first article in 2008 synthesized a huge body of common law to explain when the attorney-client privilege initially attaches to client-tax lawyer communications. The second article in 2010 addressed the case law applying the statutorily enacted Federally Authorized Tax Practitioner Privilege. The statutory privilege extended the common law attorney-client privilege to certain non-lawyers in the tax setting; it has huge potential interpretative significance for tax attorney-client privilege cases. This third and final article explains how the protections of privilege can be lost due to waiver.
Because tax practitioners have been uncertain as to when privilege initially attaches, waiver has long been a huge trap for the unwary. Due to the specter of subject matter waiver, this trap has potentially broad and devastating effects on a client's case. This article reviews the rules determining when privilege initially attaches to then explain the mechanics of waiving that privilege whether purposefully or inadvertently. The article warns tax practitioners about several common situations when subject matter waiver is often inadvertently triggered. The article also provides courts with guidance about a few high-profile cases that have frequently been misunderstood to define the scope of waiver too broadly.
Keywords
privilege,
attorney-client privilege,
tax,
taxation,
business,
waiver,
disclosure,
accountant,
I.R.C. section 7525,
FATP,
federally authorized tax practitioner
Citation Information
Claudine Pease-Wingenter. "Skating Too Close to the Edge: A Cautionary Tale for Tax Practitioners about the Hazards of Waiver"
U. Cin. L. Rev
Vol. 81 Iss. 3 (2013)
Available at: http://works.bepress.com/claudine_pease-wingenter/8/