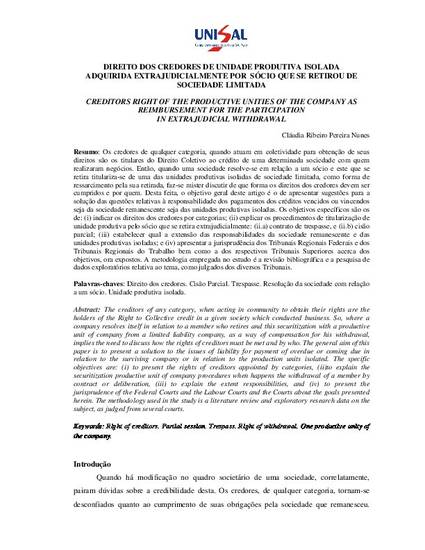 Article
CREDITORS RIGHT OF THE PRODUCTIVE UNITIES OF THE COMPANY AS REIMBURSEMENT FOR THE PARTICIPATION IN EXTRAJUDICIAL WITHDRAWAL
Revista Jurídica Direito e Paz (2013)
Abstract
The creditors of any category, when acting in community to obtain their rights, are holders of the Right to Collective Credit in a given society which conducts business. Thus, where a company resolves an action in relation to a member who retires, securitization may permit a productive unit of the company to continue as a limited liability company, as a way of compensation for this withdrawal, and implies the need to discuss how the rights of the creditors must be met, and by whom. The general aim of this paper is to present a solution to the issues of liability for payment of overdue or coming due payments in relation to the surviving company, or in relation to the isolated production units. The specific objectives are: (i) to present the rights of creditors appointed by categories, (ii) to explain the securitization process of the productive unit of the company and the procedures when the withdrawal of a member occurs by contract or deliberation, (iii) to explain the extent of responsibilities, and (iv) to present the jurisprudence of the Federal Courts, the Labor Courts and the State Courts regarding the goals presented herein. The methodology used is one of literature review and exploratory research of subject data, as judged by several courts.
Keywords
Right of creditors,
trespass,
right of withdrawal,
one productive unity of the company
Publication Date
June, 2013
Citation Information
Claudia Ribeiro Pereira Nunes. "CREDITORS RIGHT OF THE PRODUCTIVE UNITIES OF THE COMPANY AS REIMBURSEMENT FOR THE PARTICIPATION IN EXTRAJUDICIAL WITHDRAWAL"
Revista Jurídica Direito e Paz
Vol. 29 Iss. XV (2013)
Available at: http://works.bepress.com/claudia_nunes/4/