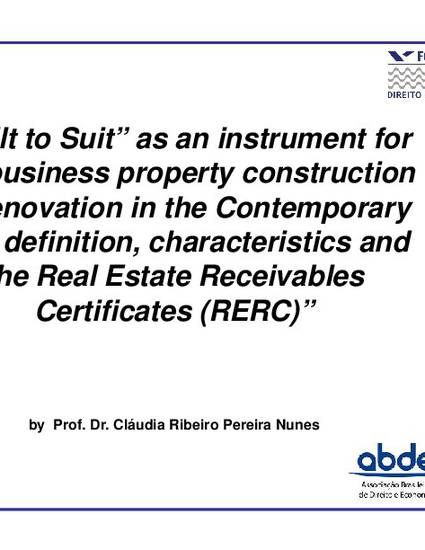 Presentation
Presentation Slides - "BUILT TO SUIT" AS AN INSTRUMENT FOR THE BUSINESS CONSTRUTION OR RENOVATION IN THE CONTEMPORARY ERA: definition, characteristics and the Real Estate Receivables Certificates (RERC)"
Associação Brasileira de Direto e Economia (2013)
Abstract
The construction or renovation is a high economic value investment to the entrepreneur. In many cases, this values disbursement, without prompt financial returns required to carry out the establishment construction or restructuring, hinders its own growth. Justified this work, therefore, implies the need to understand the Built to Suit and its relation to the Real Estate Receivables Certificates (RERC).The aim of this essay is to understand Built to Suit in Contemporary Era. The specific objectives are, after a brief historical analysis of the contract: (i) to outline the definition, (ii) submit their characteristics and special clauses, and (iii) understand the Real Estate Receivable Certificates (RECR), that finance Built to Suit operation, as the book-entry securities traded in the Informational and Network Society. Methodologically far will be the following approaches: (i) theoretical, (ii) secondary data, and (iii) exploratory field in order to verify if, with the Built to Suit Law promulgation, the legislature corroborates a business environment conducive to the modality exercise. The time frame is the first half of 2013 and field sample is delimited to the axis of Rio de Janeiro and São Paulo Municipalities in Brazil.
Keywords
Built to suit. Relational contract. Real Estate Receivables Certificates.
Publication Date
Fall October 18, 2013
Citation Information
Claudia Ribeiro Pereira Nunes. "Presentation Slides - "BUILT TO SUIT" AS AN INSTRUMENT FOR THE BUSINESS CONSTRUTION OR RENOVATION IN THE CONTEMPORARY ERA: definition, characteristics and the Real Estate Receivables Certificates (RERC)""
Associação Brasileira de Direto e Economia
(2013)
Available at: http://works.bepress.com/claudia_nunes/17/