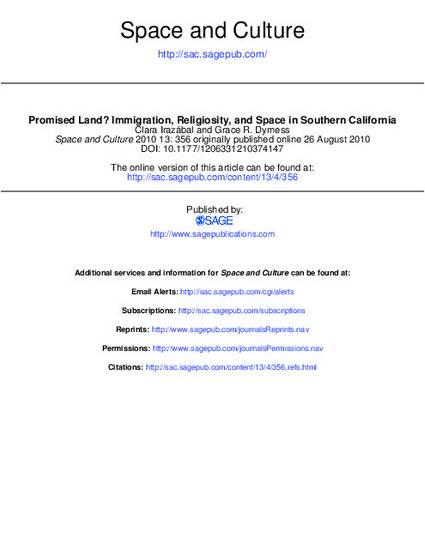 Article
Promised Land? Immigration, Religiosity, and Space in Southern California
Space and Culture (2010)
Abstract
This article looks at how immigrants and their supporters appropriate and use religious space and other public spaces for religious and socio-political purposes in Southern California. While the everyday living conditions of many immigrants, particularly the unauthorized Latino immigrants, force unto them an embodied disciplinarity that maintains spatialities of restricted citizenship, the public appropriations of space for and through religious practices allow for them –even if only momentarily –to express an embodied transgression. This practice in public space helps realize spaces of freedom and hope, however ephemerally. Potentially, these rehearsing exercises can help revert internalized disempowering subjectivities and create social empowerment. Negative stereotypes about immigrants held by the larger public can also be challenged through these spatial practices, as the public demonstrations make visible the invisible. We focus on "Posadas Without Borders" and "the New Sanctuary Movement," considering both the role of progressive civic and religious institutions in supporting immigrants and the agency of the immigrants themselves. The theoretical analysis builds on concepts drawn from a conversation between geography and religious and theological studies. We use a triangulated methodological approach that includes observation and participant observation, content-analysis of multimedia, interviews, and intellectual advocacy for the immigrant movement. The cases discussed here show that progressive religious groups and coalitions can be important allies to progressive planners, geographers, and policy makers in advancing social and environmental justice for the disenfranchised. They also show that the theological underpinnings of such groups share a lot in common with planning epistemologies for the just city.
Citation Information
Clara Irazabal and Grace Dyrness. "Promised Land? Immigration, Religiosity, and Space in Southern California"
Space and Culture
Vol. 13 Iss. 4 (2010)
Available at: http://works.bepress.com/clara_irazabal/7/