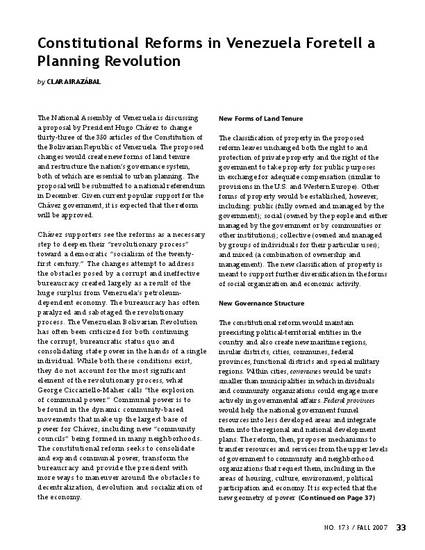 Article
Constitutional Reforms in Venezuela Foretell a Planning Revolution
Progressive Planning (2007)
Abstract
The National Assembly of Venezuela is discussing a proposal by President Hugo Chávez to change thirty-three of the 350 articles of the Constitution of the Bolivarian Republic of Venezuela. The proposed changes would create new forms of land tenure and restructure the nation's governance system, both of which are essential to urban planning. The changes attempt to address the obstacles posed by a corrupt and ineffective bureaucracy created largely as a result of the huge surplus from Venezuela's petroleum- dependent economy. The bureaucracy has often paralyzed and sabotaged the revolutionary process. The Venezuelan Bolivarian Revolution has often been criticized for both continuing the corrupt, bureaucratic status quo and consolidating state power in the hands of a single individual. While both these conditions exist, they do not account for the most significant element of the revolutionary process, what George Ciccariello-Maher calls "the explosion of communal power." Communal power is to be found in the dynamic community-based movements that make up the largest base of power for Chávez, including new "community councils" being formed in many neighborhoods. The constitutional reform seeks to consolidate and expand communal power, transform the bureaucracy and provide the president with more ways to maneuver around the obstacles to decentralization, devolution and socialization of the economy.
Citation Information
Clara Irazabal. "Constitutional Reforms in Venezuela Foretell a Planning Revolution"
Progressive Planning
Vol. 173 (2007)
Available at: http://works.bepress.com/clara_irazabal/45/